photos | Sarah Brown
by Sarah Brown
Though most famous for Carnival, golden beaches, and world-famous landmarks, the real heart of Rio de Janeiro, for those in the know, lies in its downtown, most notably in Saúde, Gamboa, and the surrounding neighbourhoods hard by the port. For it's this area that's steeped in a complex history that dates back half a millennium to the Portuguese colonisers' founding of Rio and the centuries of brutal slavery which followed.
A good place to start is Praça Mauá, a once rundown square that was revitalised in 2009 and transformed into a spacious, Parisian-style public space bookended by Guanabara Bay to one side and by two well-known attractions to the other - the newish Museu do Amanhã (Museum of Tomorrow), famed for its futuristic, swooping architecture (courtesy of Spain's own Santiago Calatrava) and groundbreaking exploration of our planet's future, and the Museum of Art (MAR) with impressive collections of Brazilian and international masterpieces from colonial times to the present day. The port area is peaceful today, but when Brazil finally abolished slavery in 1888, thousands of freed slaves clustered together there, with nowhere to go and nothing to do. Locals dubbed it "Little Africa", which in the coming years grew into the nucleus of the country's oldest Afro-Brazilian community.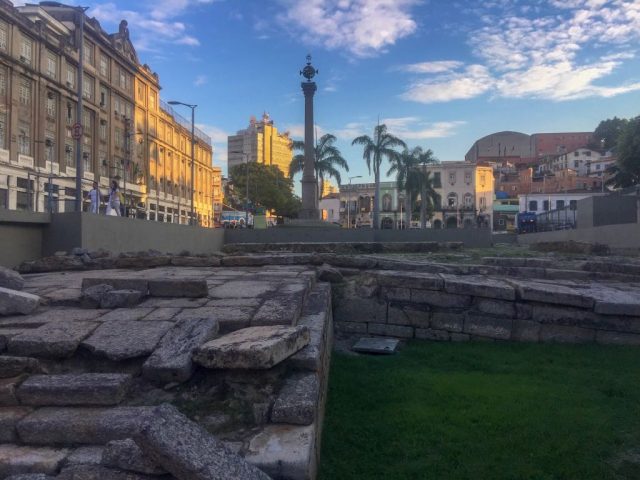 Alongside Praça Mauá is Boulevard Olímpica, which among other things showcases the world's largest street mural (top), designed and painted in 2016 by São Paulo-born Eduardo Kobra. Made up of portraits of indigenous people representing five regions –Europe, Africa, Australasia, and the Americas, this photogenic work is a mix of photorealism and colourful geometric shapes; along the nearby strip, between gorgeous photo ops you can enjoy gourmet burgers and artisanal beer at the growing number of food trucks. Now it's time to dig deeper into the city's sad history of slavery and its aftermath, which came to influence some of Brazil's most iconic traditions, from food (such as feijoada and angú) to dance and martial arts (samba, capoeira), to religion (the Catholic-African hybrid candomblé). Just a five/minute walk from Olympic Boulevard is Valongo Wharf, built in the beginning of the 18th century in a neglected part of the city centre  to keep the slave trade out of sight of the wealthy residents who lived on the top of nearby Conceição Hill; by the time slavery was abolished, some one million slaves came through this port. Today, dozens of slabs of grey rock form the outline of what used to be the port (above), which was discovered only in 2011 and quickly declared a UNESCO World Heritage Site. Since then it has attracted quite a few visitors but remained fairly neglected, until it was renovated in the summer and fall of 2023.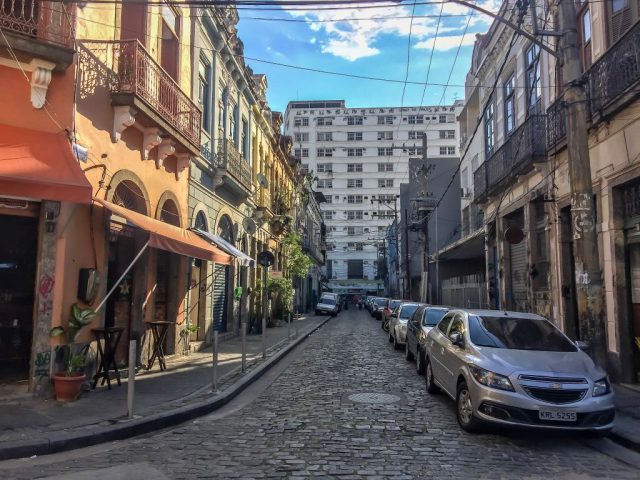 A 15-minute stroll from here, the Instituto de Pesquisa e Memória Pretos Novos (New Blacks Research Institute and Memorial) in Saúde is one of Rio's most moving and eye-opening places to visit. The tiny non-profit museum preserves the memory of the slave trade, yet it's also the final resting ground of an estimated 30,000 enslaved Africans who didn't survive the journey from Africa to Brazil and whose bones were tossed into makeshift graves between 1769 and 1830. It's housed in the former home of a couple who discovered bones during a renovation in 1996 and though the black cemetery covered the entire block, were the only ones who turned their house into a memorial and collection of exhibits and artifacts documenting this tragic chapter in Brazilian history. Another ten-minute stroll takes you to the cobblestone streets of the next-door Gamboa neighbourhood, anchored by the Pedra do Sal (Salt Rock, below), a large boulder which used to be at water's edge and upon which slaves were forced to break huge chunks of salt. The wealthy who originally settled in this area left when the docks were built, and so it eventually became the site of one of the first quilombos, communities of freed or escaped slaves. As I alluded above, it was these people, the quilombolas, who brought samba to Brazil, and Pedra do Sal is considered this music's birthplace; to this day it's still at the centre of Rio's biggest samba party every Monday and Friday night. Live bands rodas de samba fill the air with the sensual beats while a mix of locals and visitors, mingle, dance, and sip caipirinhas and beer in the balmy Rio nights.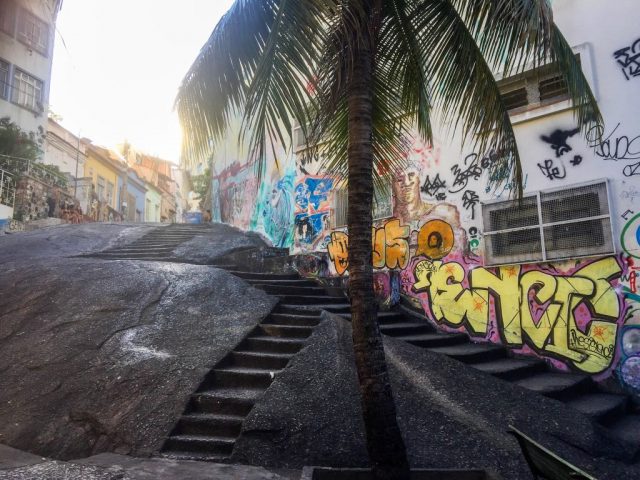 These districts do have a number of other worthy attractions, such as Saúde's pretty, century-old Hanging Garden of Valongo; colonial-era churches such as late-17th-century São Francisco da Prainha and mid-18th-century Nossa Senhora de Saúde; the late-19th-century Valongo Observatory (open to the public); and the early-18th-century Morro da Conceição Fortress, featuring historic exhibitions and great bay views. In Gamboa, there's AquaRio, South America's biggest and best aquarium, which in addition to all the usual high-tech aquatic bells and whistles of today includes a surf museum. After you're done down here, you might want to proceed to the adjoining Lapa neighbourhood, with its colourful Selarón Staircase and whitewashed aqueduct, and then onward up the hill to the intensely atmospheric Santa Teresa district. But the heart of this historic waterfront zone remains its Afro-Brazilian culture, and in that heart in fact lies the soul of Rio de Janeiro - and, one could argue, Brazil itself.
More info: VisitRio.com. Best fares to Rio from the U.K., from Spain.  
Sarah Brown is a Rio-based British writer and visual media creator.