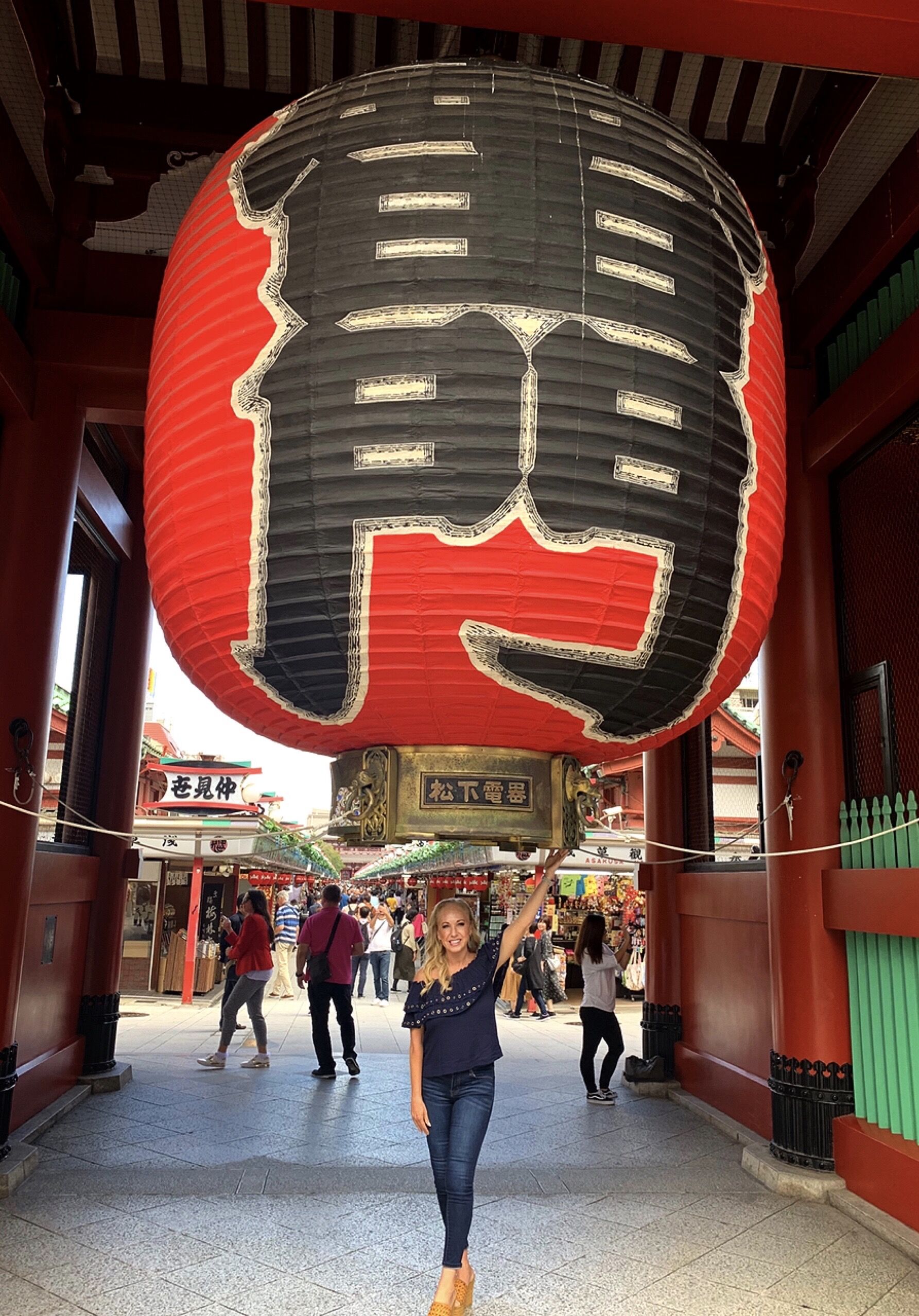 Photos: Linda Cooper
In Japan (or Nippon as the Japanese call it), broken objects are often repaired in gold, a practice known as Kintsugi.  As a philosophy, its flaw is seen as a unique piece of the object's history, therefore celebrating its beauty rather than something to disguise. It's this approach combined with a constant "nod" reflecting old and new blended so seamlessly into Japanese modern life that makes the Land of the Rising Sun one of the most travelworthy around the globe.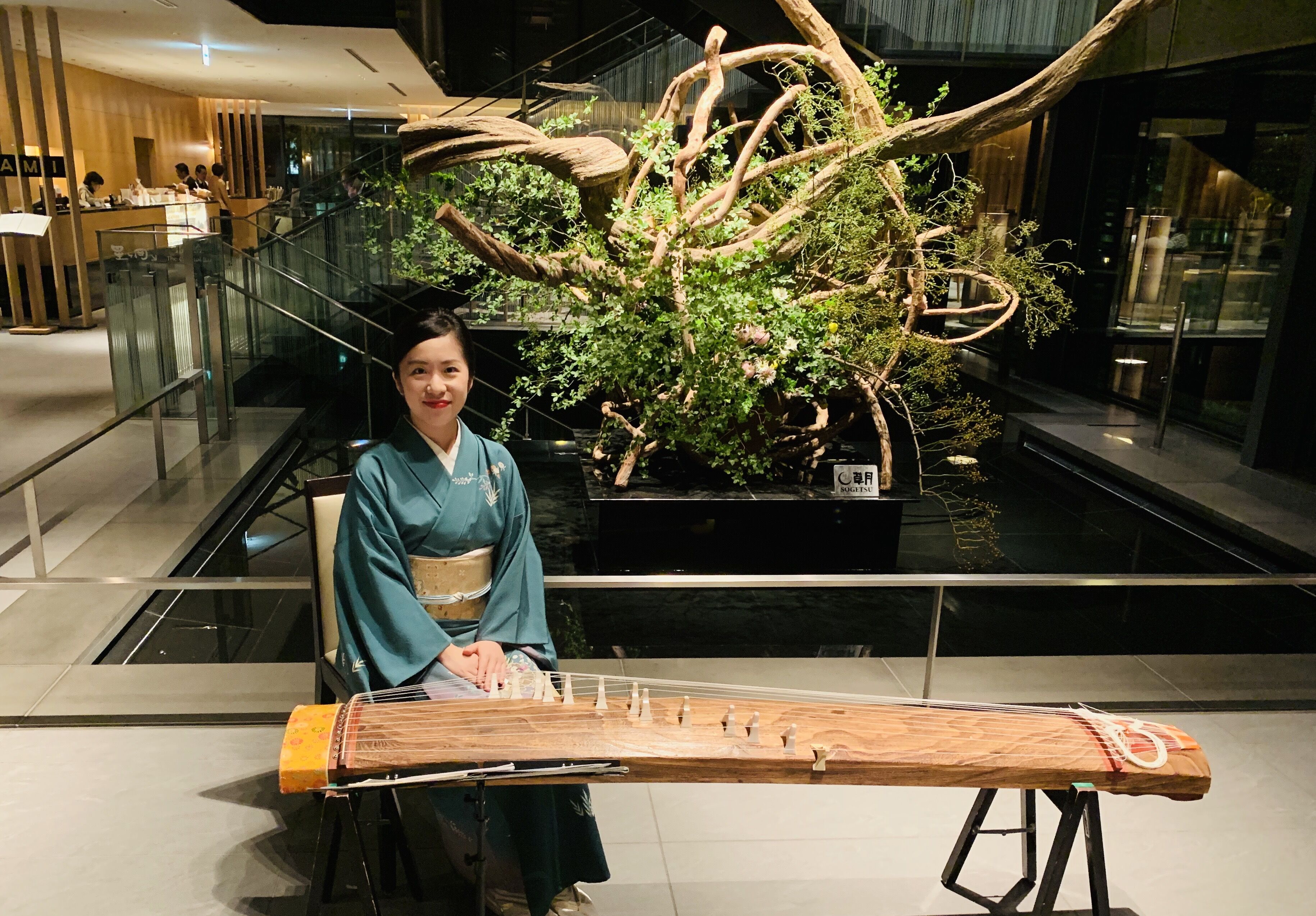 My eye-opening appreciation of the Japanese way of life began the moment I arrived into Tokyo and stepped foot into the stunning lobby of The Capitol Hotel Tokyu. A country of contrasts that coexist at the intersection of old meets new, I was greeted at check-in to find a lovely performer serenading us with the most recognizable traditional sounds of Japan from its zitherlike national instrument, the koto.
Rising high above the city streets of downtown's Akasaka district, this property defines "modern Japanese" ambiance with a luxury setting that mixes traditional with sophisticated modern Japanese architectural styles, designed by famed architect Kengo Kuma.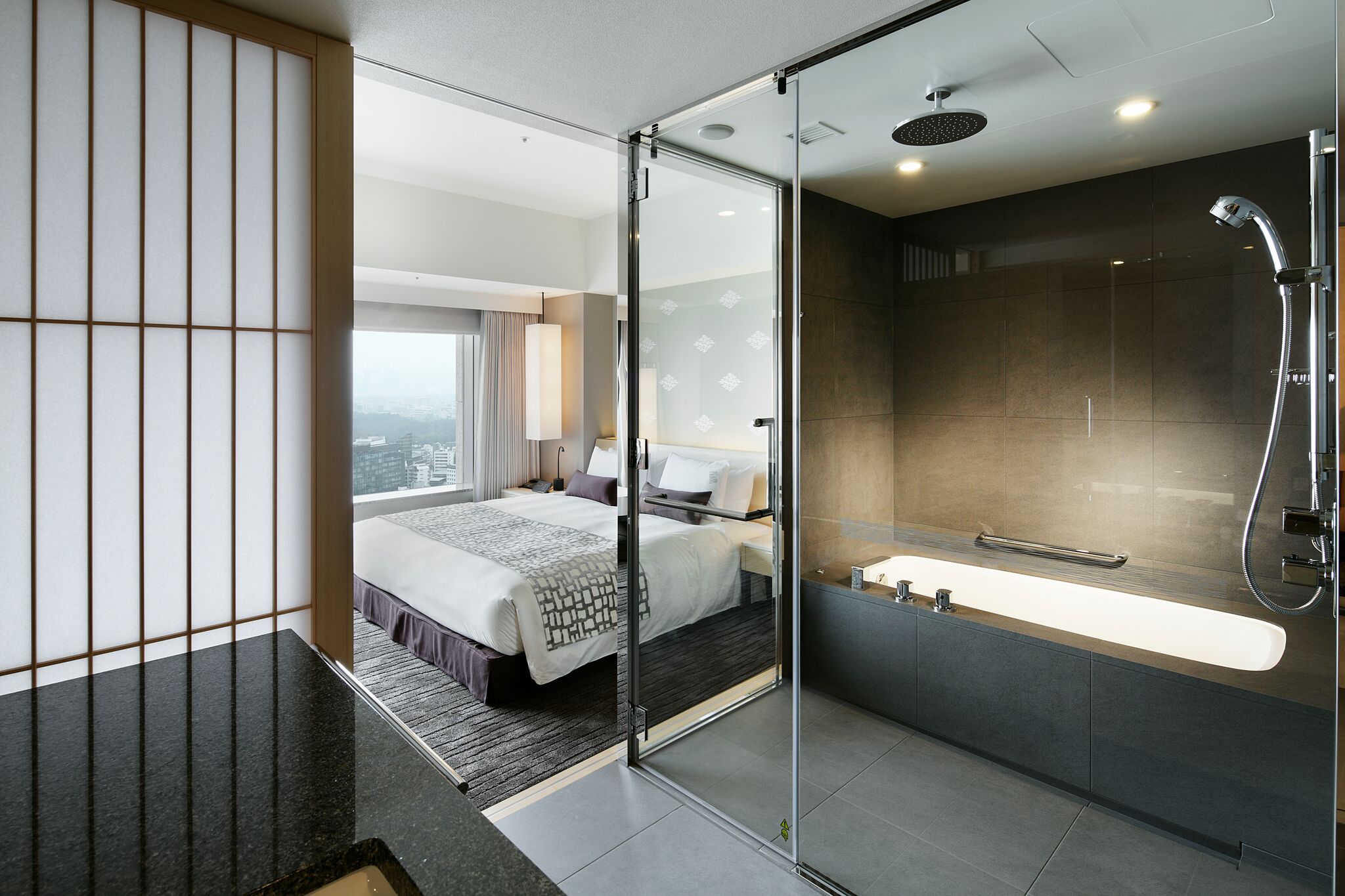 Each morning I woke up excited for a day a new day of exploration enticed by our fabulous panoramic view of Tokyo's cityscape. The property has 251 rooms including 14 suites, and our luxury accommodations were an elegant cocoon of Japanese comfort designed with natural wood finishes and shoji paper screens ingeniously placed to customize our living space.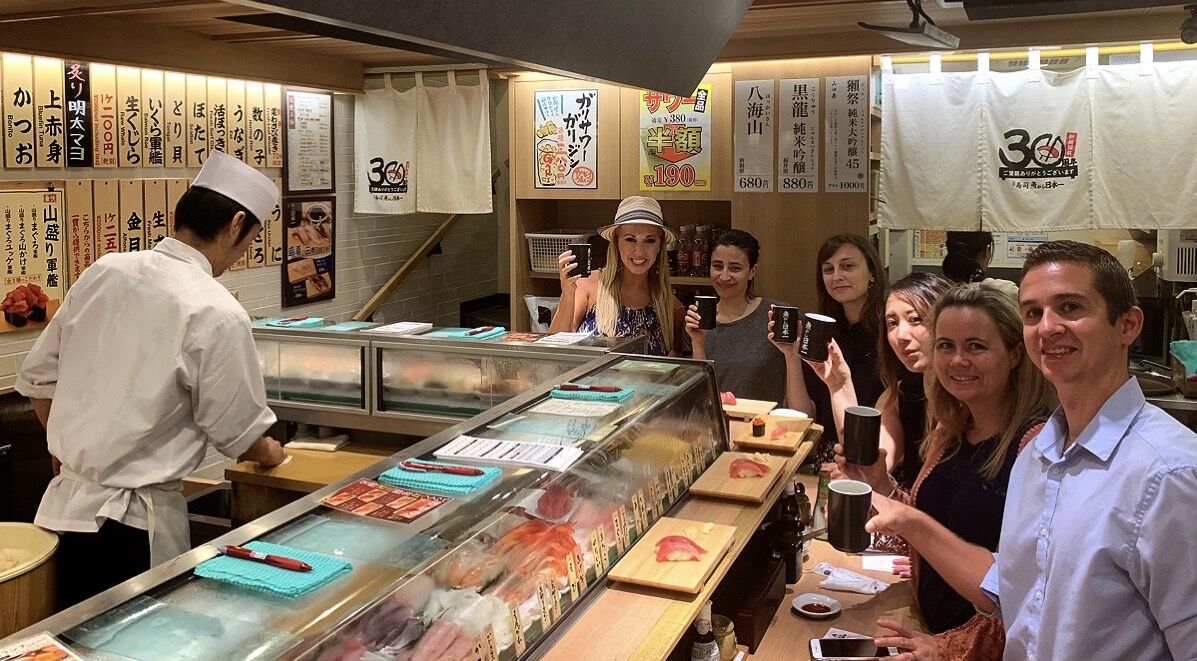 Food, Glorious Food

Japan's capital is a gastronomic wonderland - and I'm not just talking about its famous melt-in-your-mouth sushi. To really experience Tokyo's rich culinary canon, taking an Arigato Food Tour is an absolute must for food lovers, whether or not you think of yourself as a foodie. Navigating the back alleys, we tasted our way through the city, sampling delectable bites from five unique food stops while learning must-know cultural tidbits led by Arigato's expert guide. It was an unforgettable experience that no tourist will ever see on their own with the most delicious food only the locals usually get to savor. Our personality-plus tour guide "Sam" was a real kick and I came away with delicious memories, a font of knowledge and a full tummy.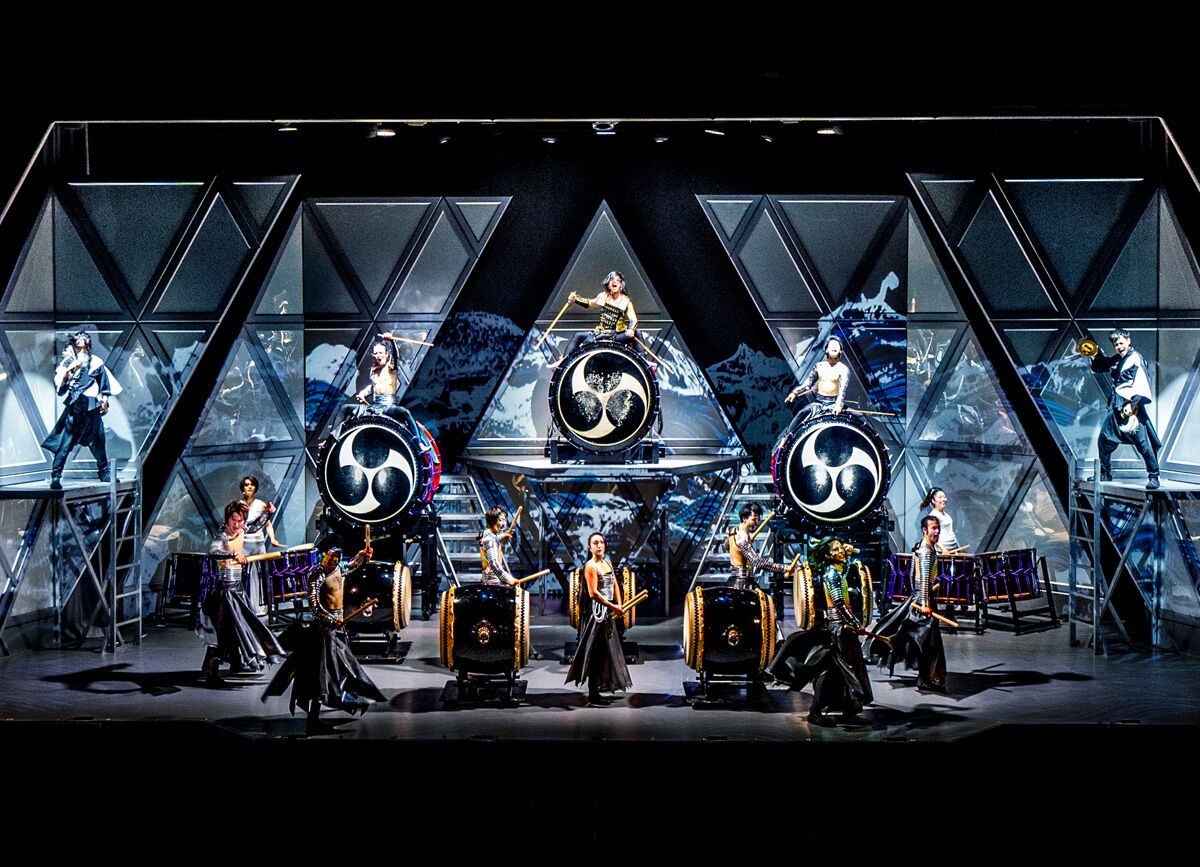 Plus Cutting-edge Culture

We also were able to indulge in a very different feast for other senses. Since 2017 a dynamic group called Drum Tao has been treating audiences to Mangekyo, an hourlong spectacle electrifying, state-of-the-art taiko drumming in a dedicated theater. It's truly unique (and inevitably loud) entertainment mixing tradition with powerful avant-garde revolution that truly mesmerizes, brought to the stage with the collaborative of visionary digital masterminds at TeamLab, an interdisciplinary group of "ultra-technologists" whose collaborative practice seeks to navigate the confluence of art, science, technology, design and the natural world..A feast for both eyes and ears, and creative beyond most people's imagination.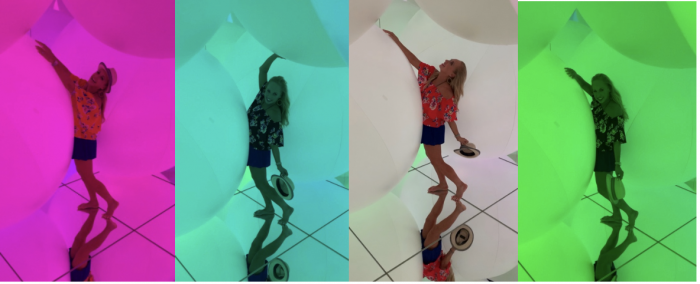 Another very worthwhile attraction from teamLab is Planets, an outstanding "body immersive" digital art museum consistng of a collection of installations in which your entire body becomes fully immersed into the art.  I have never experienced anything so fabulous and interactive, where there are no boundaries between you and the work.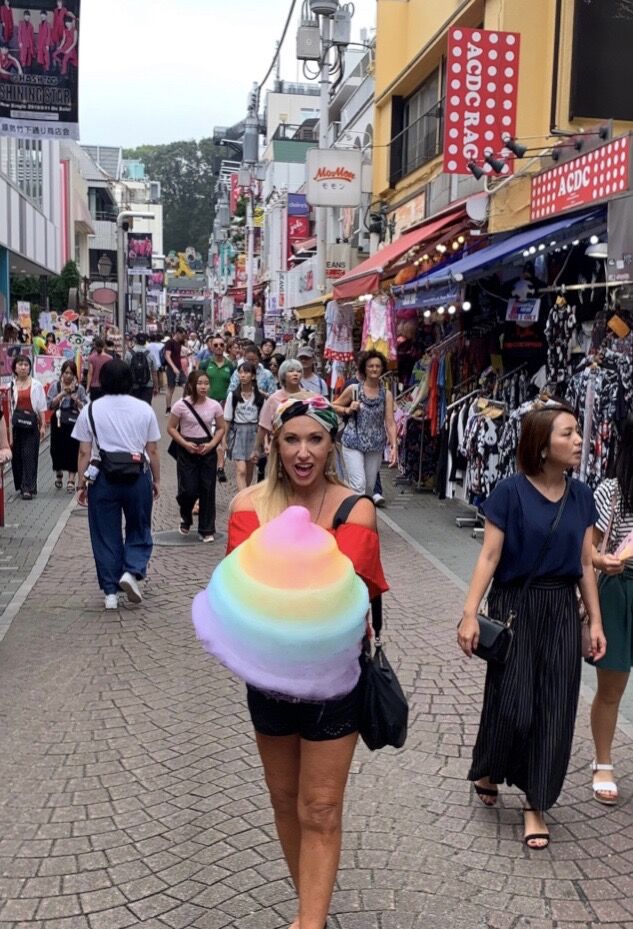 Like the giant, rainbow cotton-candy I'm holding on famed Takeshita Street of downtown's Harajuku district, everything in Tokyo is bigger and better with sightseeing nirvana at nearly every turn.  It may be the most Instagrammable city I've ever experienced which speaks volumes coming from me as a travel TV host.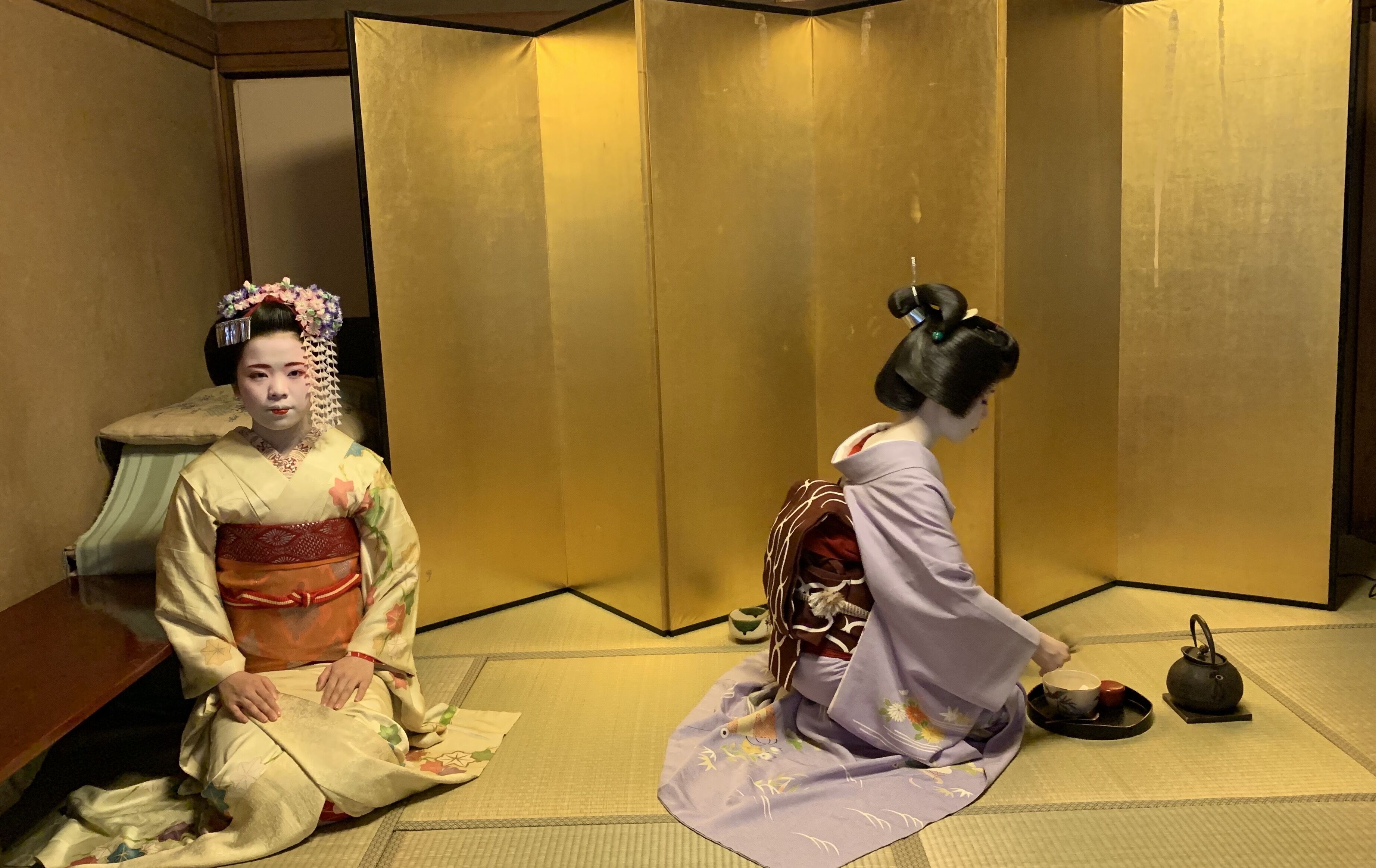 Going to Kyoto for Traditional Culture
Next we journeyed to one of Japan's oldest cities (it was chosen as the imperial capital in the 8th century, and now has a population around 1½ million), a 2½-hour train ride or five hour drive southwest of Tokyo. And as the country's "cultural capital" it's also the center of the geisha world, and I was granted a rare interview with a geiko (geisha) and her maiko apprentice. Around dusk in the entertainment district Gion, we arrived at a little wooden building "boarding house" for mistresses of the classical arts, designated by black vertical plaques at their entrances; the blond wood sign above denotes the name of the geiko and maiko who live inside its quaint teahouse. Led upstairs by the "house mother" to a private room we were seated, and I soon was captivated as our geisha floated elegantly inside; red-lipped and doll-like dressed in elaborate kimonos and face artistically painted and powdered white. They are skilled in making conversation as well as practicing many of the traditional arts, including dance and playing instruments such as the lute and three-string shamisen. A trance-like tea ceremony and performance ensued, followed by a rare interview and even an impromptu dance lesson! Contrary to the prostitution myth about this profession, geishas are highly respected and bound to lead a single life "not allowed to consort with boys" and live with their house mothers under strict rules; should they choose to marry, they must retire from the profession.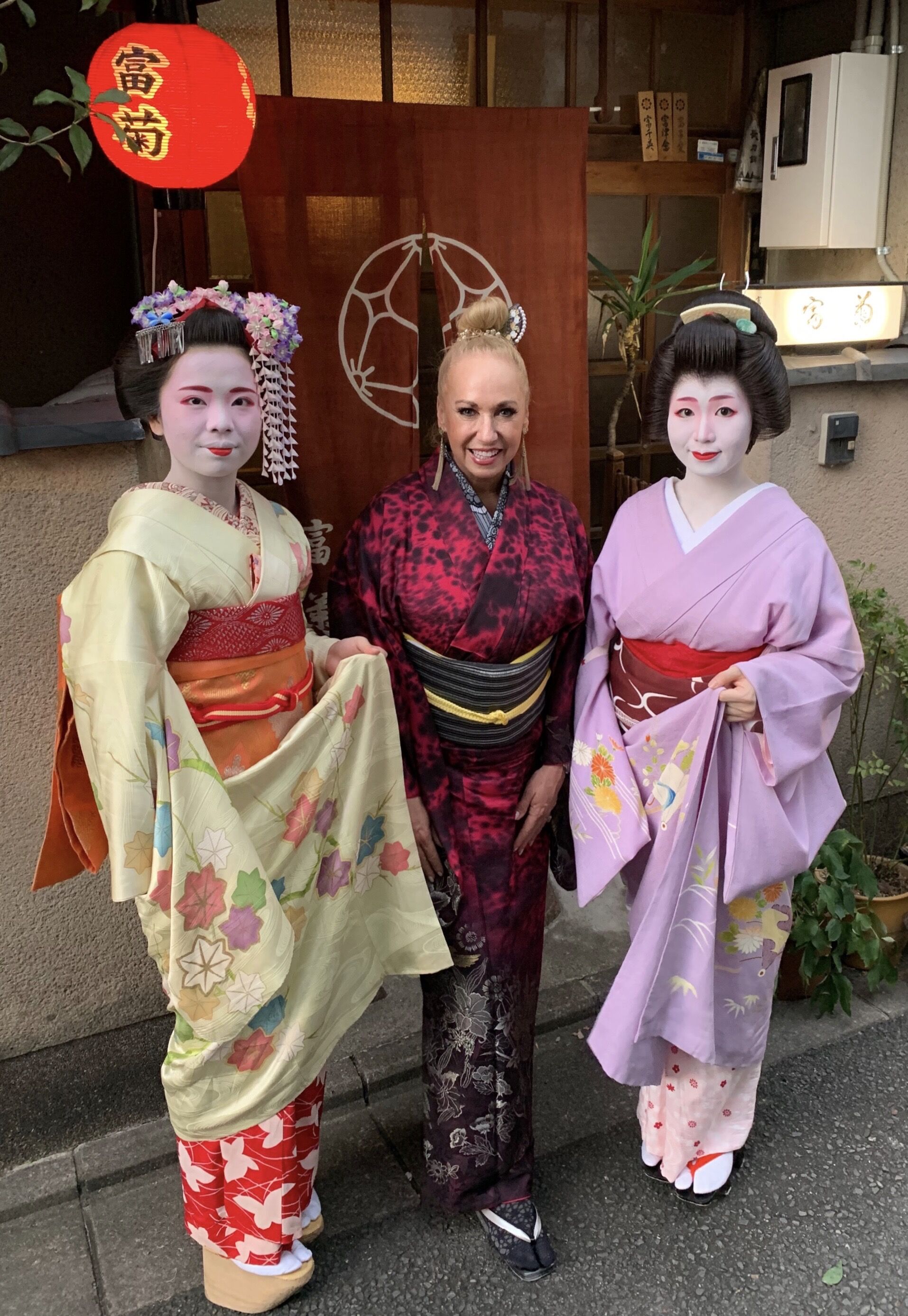 So grateful for my once-in-a-lifetime experience, I ended our interview with a heartfelt "okini", a Kyoto-dialect phrase meaning "thank you very much" as they escorted us out and waved good-bye from the teahouse entrance until we disappeared from sight.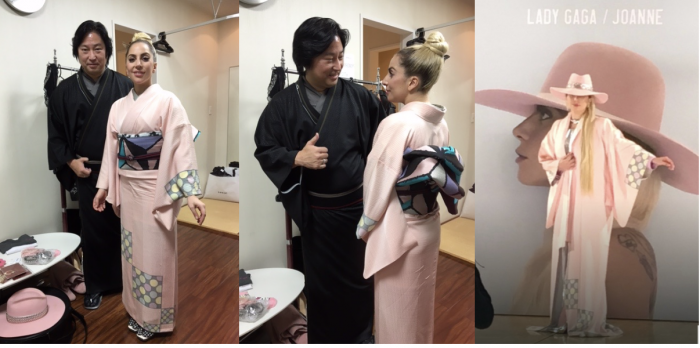 courtesy of Jotaro Saito
Walking away, I reflected how fortunate I felt to be dressed so perfectly for this special occasion as earlier that day I had the incredible opportunity to interview Kyoto-based Jotaro Saito, the famous designer who dressed Lady Gaga in one of his gorgeous kimono designs for her performance in Japan several years ago. This third-generation kimono designer has made a name for himself with his classic and contemporary designs in the pursuit of creating kimono as fashion promoting "a lifestyle of enjoying Japanese taste".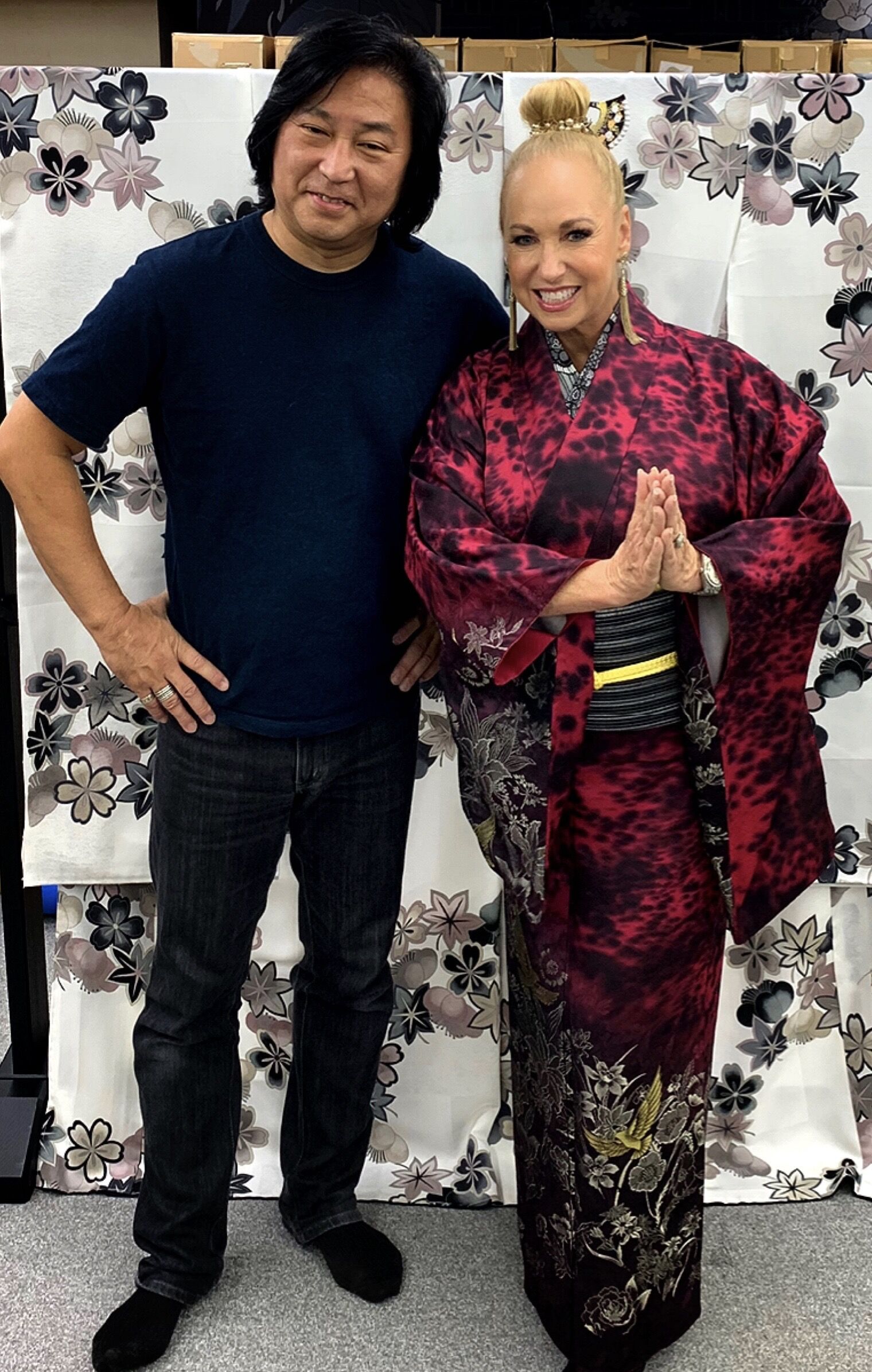 In addition to his sought-after kimonos he also produces beautiful home interiors and other design products you can drop some yen at his two retail store locations - one here in Kyoto and in in Tokyo's Ginza shopping district.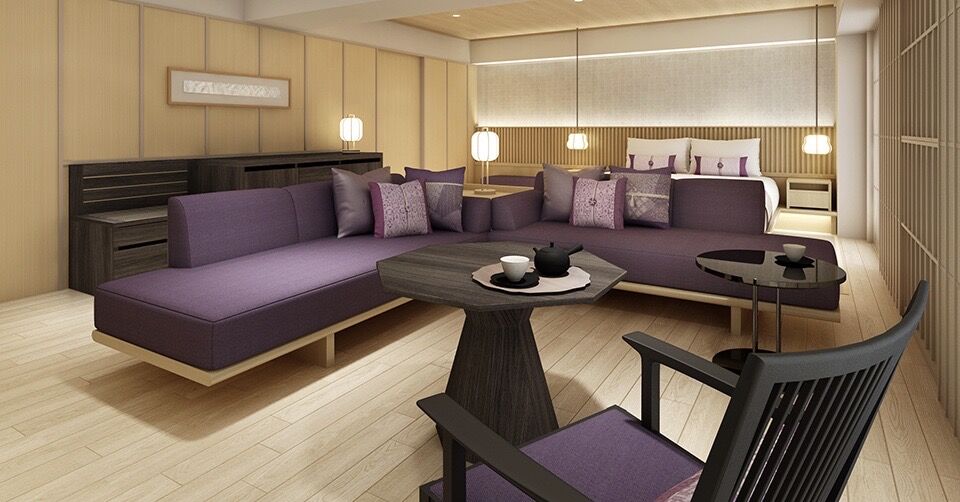 Back amid the serene contemporary surroundings of the 408-room Kyoto Tokyu Hotel, its tranquil courtyards and water features create the perfect sense of calm and relaxation to end each day's bespoke adventures. Tokyu Hotels offer its guests a consolidated zone of hospitality with unbeatable locations throughout Japan's major cities, and like its Tokyo sister property the Capitol Tokyu, your sleek sophisticated accommodations are an idyllic haven with luxurious details including Japanese green tea, slippers, and yukata (bathrobe-like summer kimonos) nightwear.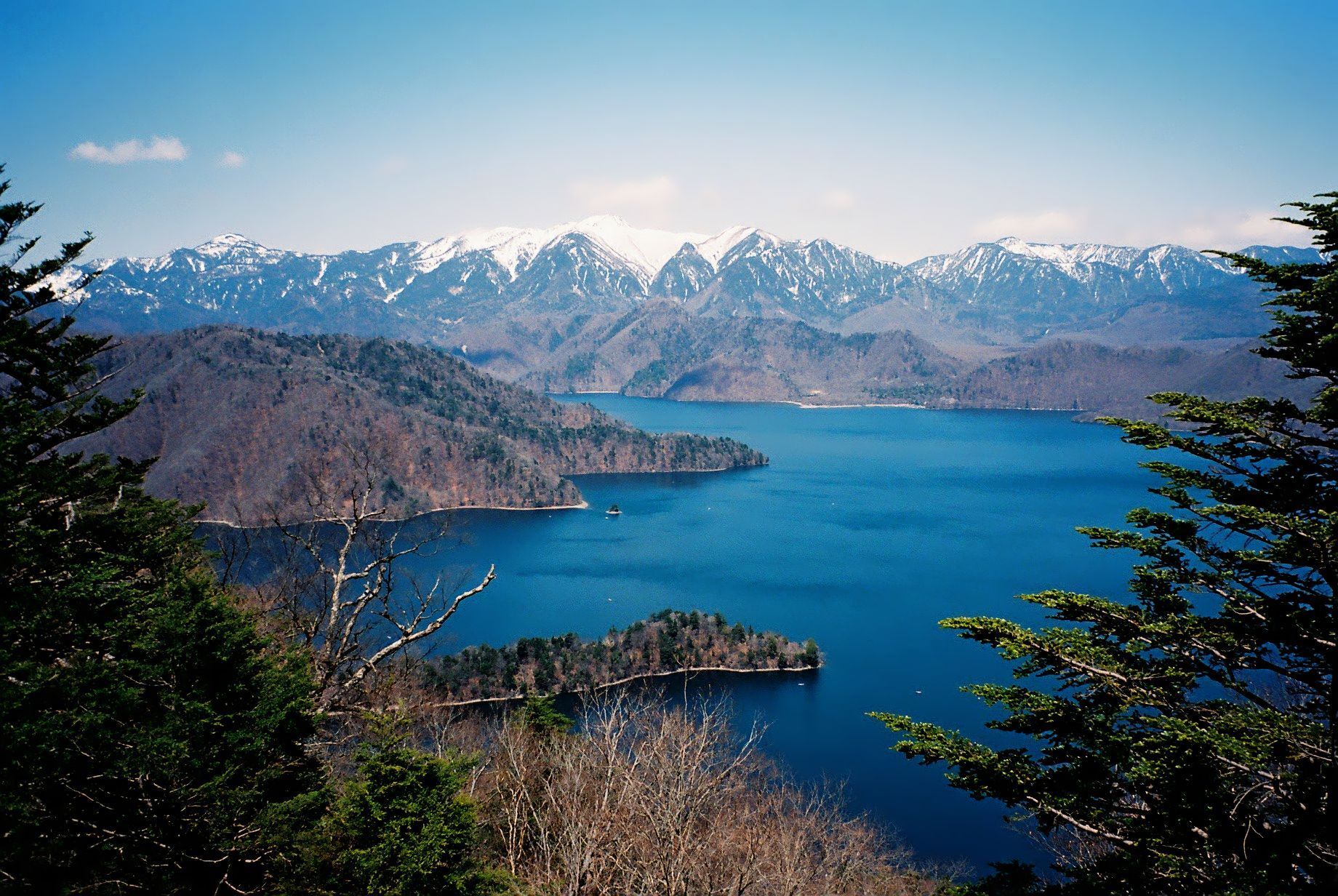 A Magical Northern Escape

For another change of pace, we headed a couple of hours north of Tokyo to the shores of Lake Chuzenji in the Tochigi prefecture of Nikko, where many urban Japanese flock for a break from the pressures, hustle, and bustle of big city life. A national treasure filled with natural beauty and important UNESCO World Heritage Sites, its literal translation means "sunlight", and its lovely mountain lake landscape is reminiscent of my childhood family vacations growing up in California, with summers spent at Lake Tahoe.

Arriving from Tokyo on an impecccable, two-hour Nikko Line of Tobu Railway to experience this region's beautiful treasures was on my bucket list, and as the Japanese saying goes "Never say kekkõ until you've seen Nikkõ" — kekkõ meaning "a reflection of its beauty." So I was excited to see Japan's famed mystical city and region.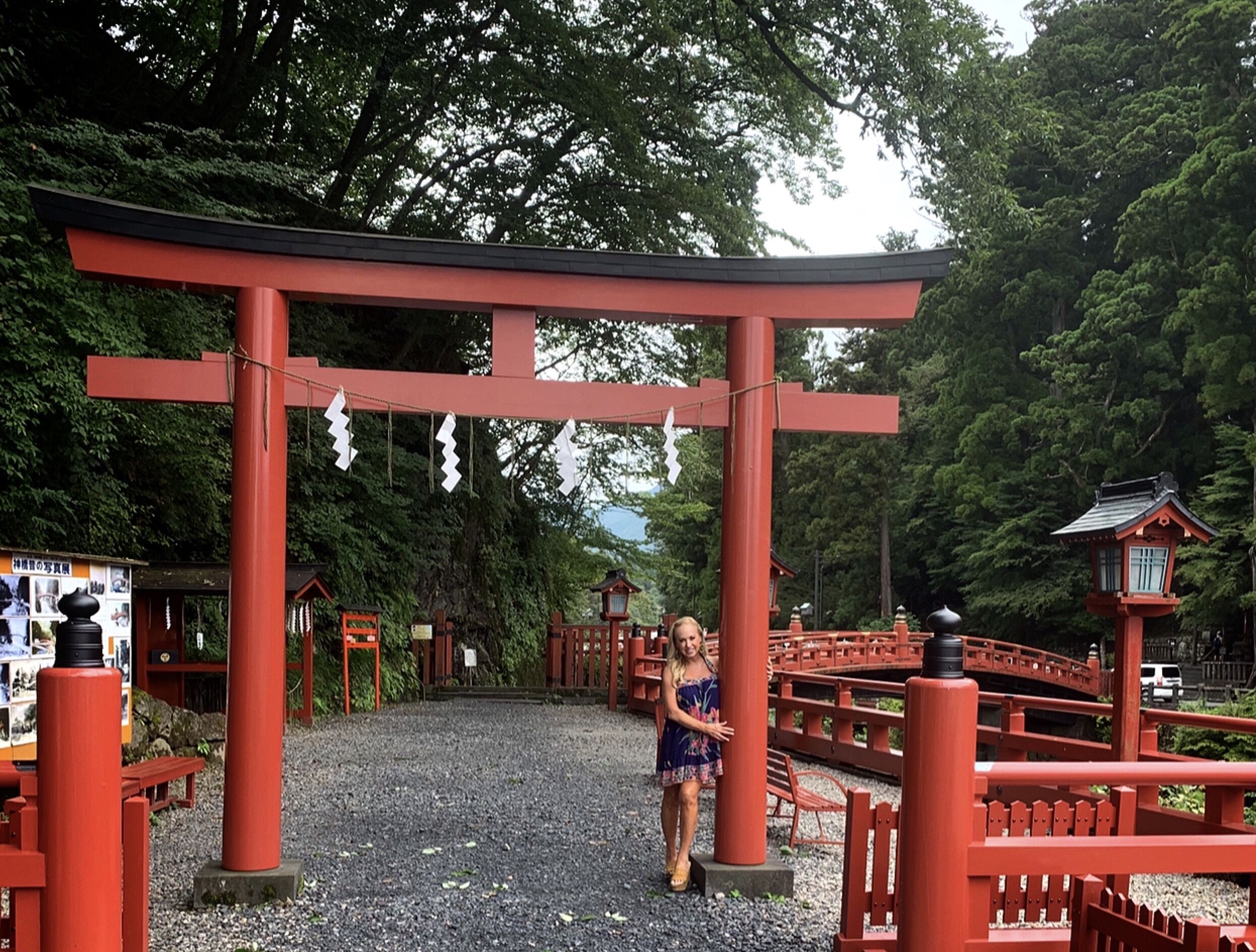 At the entrance to the sanctuary of the Shinto Futarasan-jinja Shrine, dating back to the 8th century, stands the sacred vermillion, UNESCO World Heritage Shinkyo Bridge; Japan's oldest built over a gorge. It's considered lucky to make a wish while crossing, so of course I had to make this my first stop on our way to checking in to our luxury ryokan (traditional inn) property, Hoshino Resorts KAI Nikko.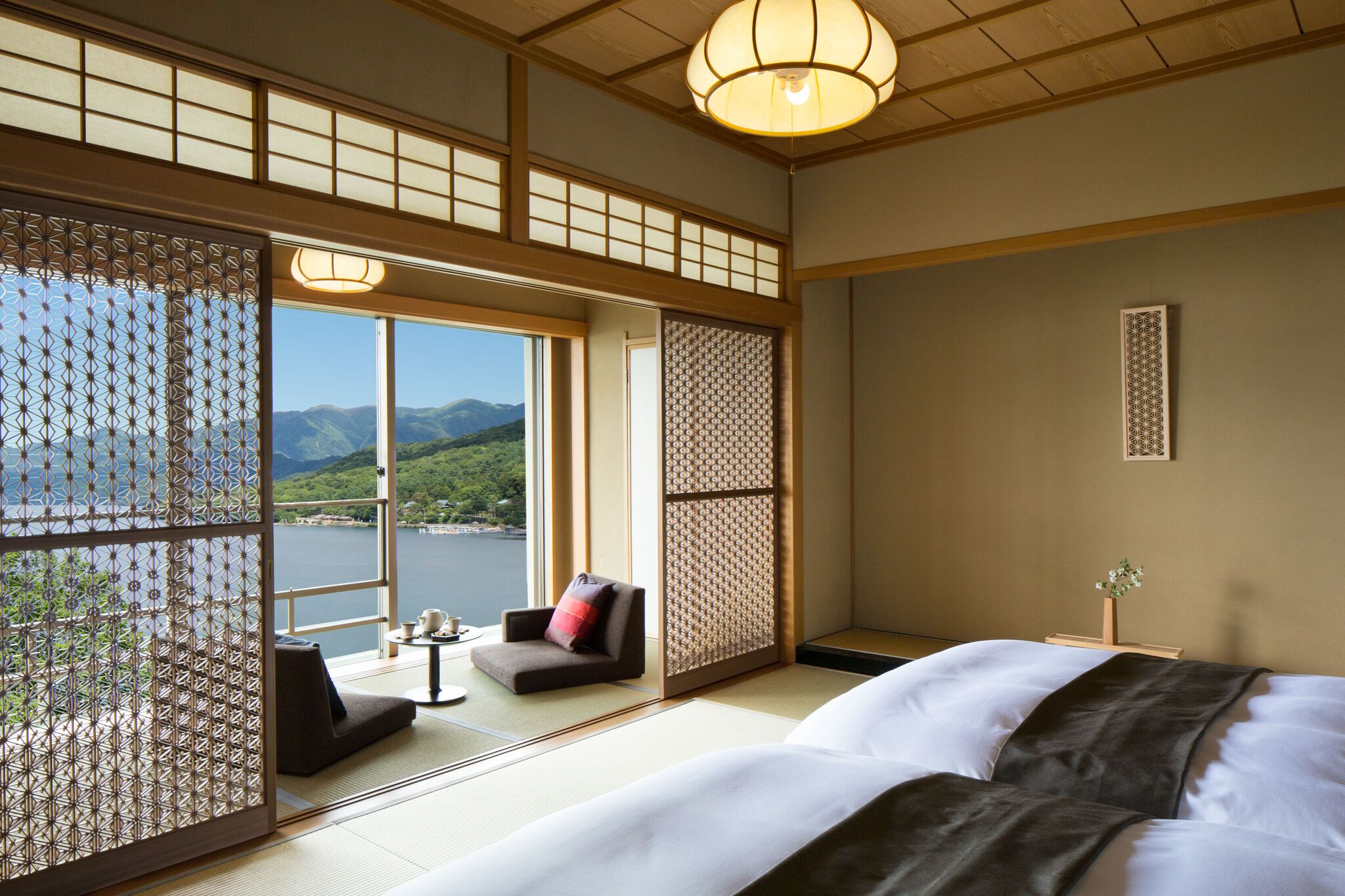 Staying at a traditional Japanese ryokan was an absolute-must on my travel agenda, and KAI Nikko did not disappoint, with its luxurious tatami-matted rooms with Western influences, plus breathtaking views of Lake Chuzenji and Mount Nantai.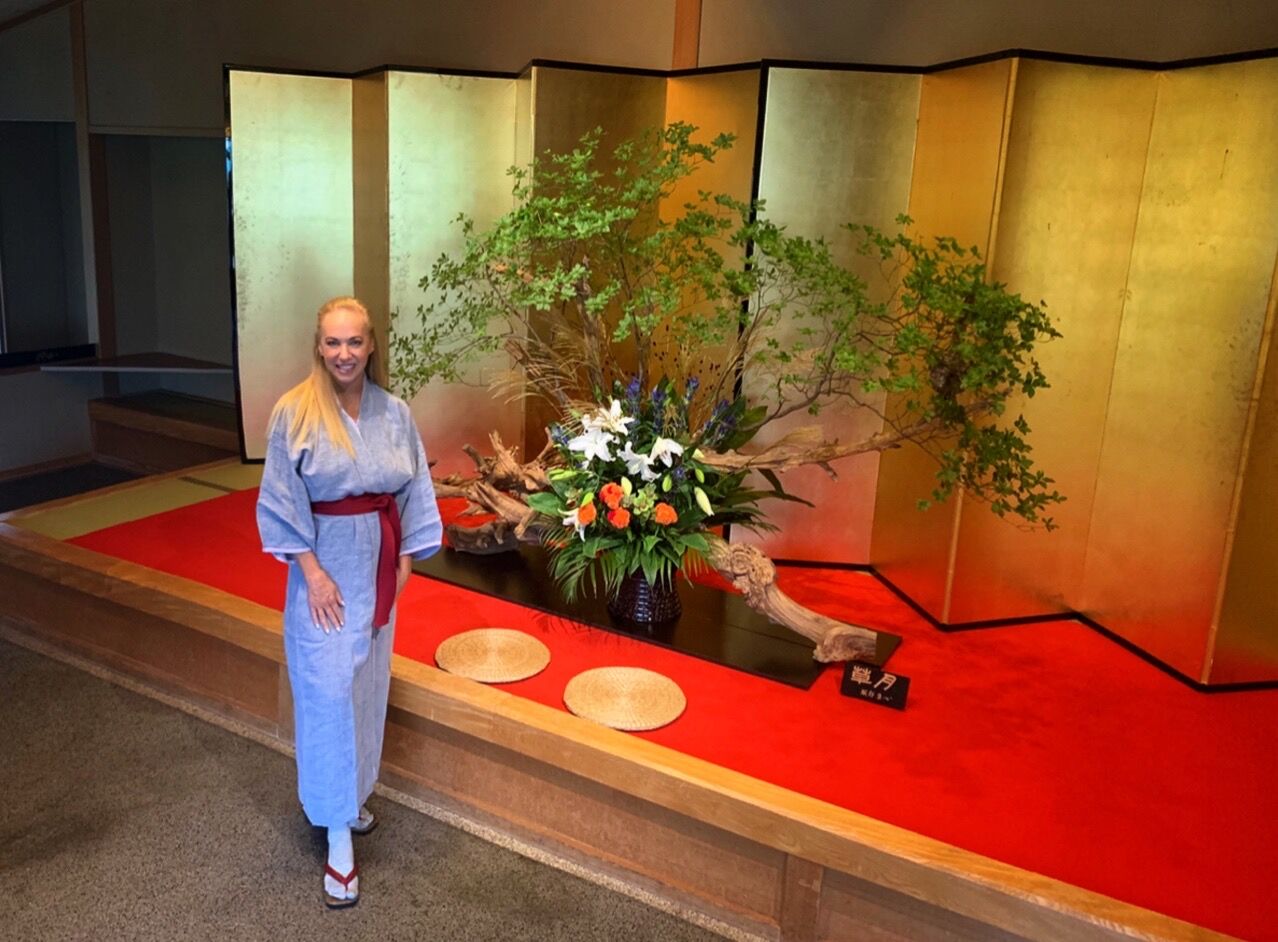 Assigned a yukata robe and setta (casual traditional thongs) with Tabi socks to wear at all times on-property, it was so nice for a change not to think about what I was going to wear every day and enjoyed the hotel's incredible hot springs, taking full advantage of living in the moment.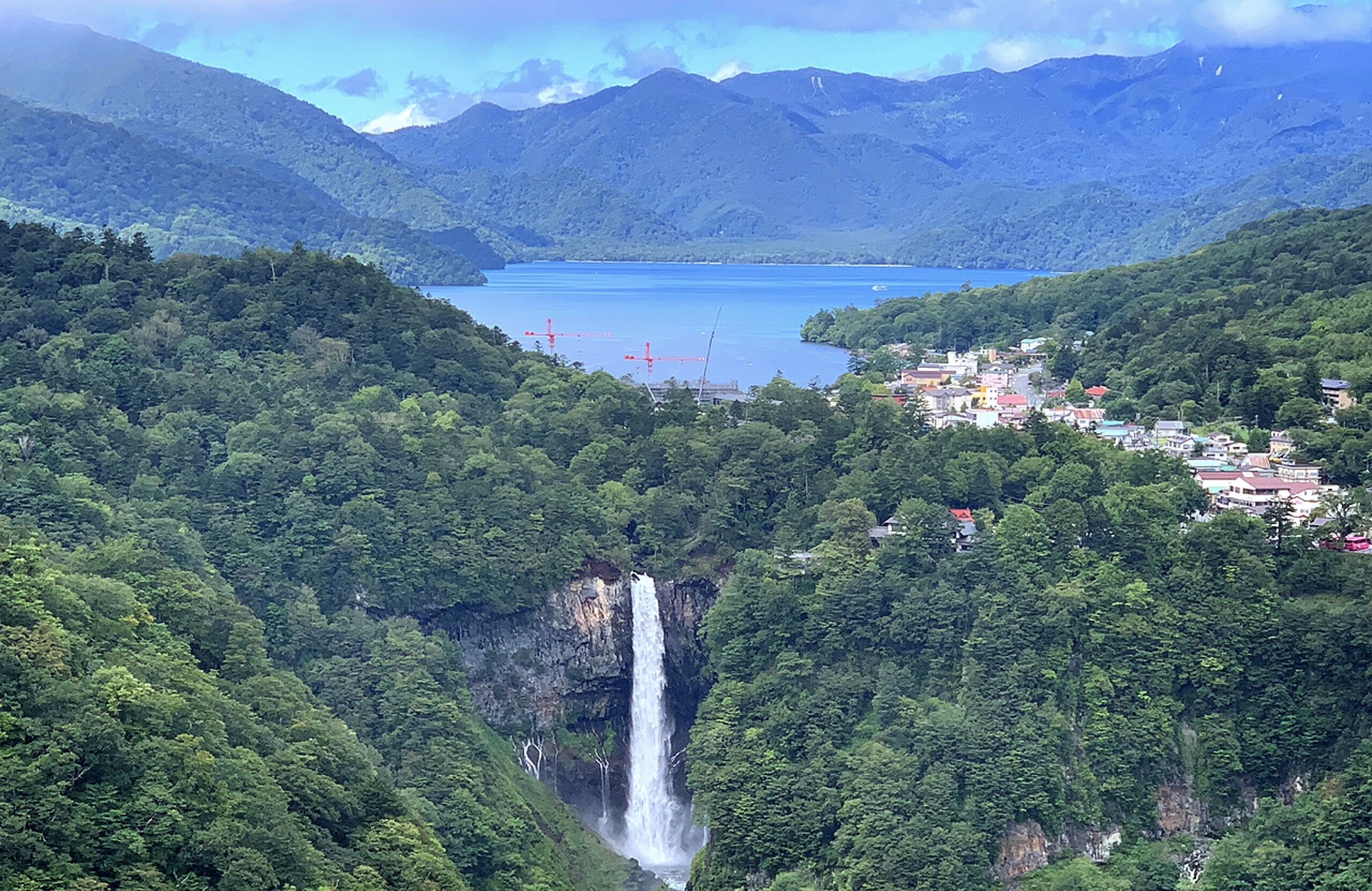 With gorgeous sightseeing at every turn, we ventured off property to enjoy the panoramic vantage points of Nikko's famous 318-foot-high Kegon Falls (above), taking a ride up to the observation platform atop  Akechidaira Plateau for a comprehensive (and mind-blowing) aerial view of the stream flowing from Chuzenji to the falls, and Nikko's sacred volcano Mount Nantai -  8,156 feet high - in the background (the eruption of which 27,000 years ago blocked the valley below, creating the lake).

More sightseeing musts include visiting the also World Heritage Nikko Toshogu Shrine, built in the early 17th century and dedicated to the Tokugawa Shogun (one of Japan's many military dictators between 1185 and 1868) and his samurai warriors, as well as the Tamozawa Imperial Villa; a well-preserved former summer residence and retreat for the Imperial family also dating back to the 17th century and used up until the end of World War II.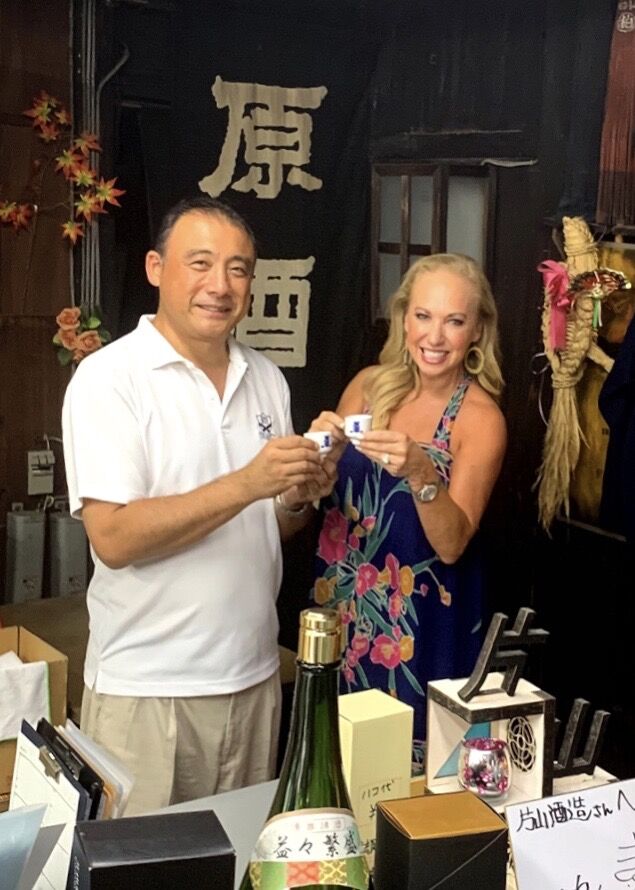 It was also here in Nikko where I experienced a full-circle moment at the Katayama Suzo Sake Brewery. Kampai!.While enjoying my sake tasting and interview with the company's sixth-generation sake maker, our translator/guide shared my Japanese claim to fame with the owner: having modeled as a 16-year-old for the well-known One Cup Ozeki Sake, gracing its wine label throughout Japan.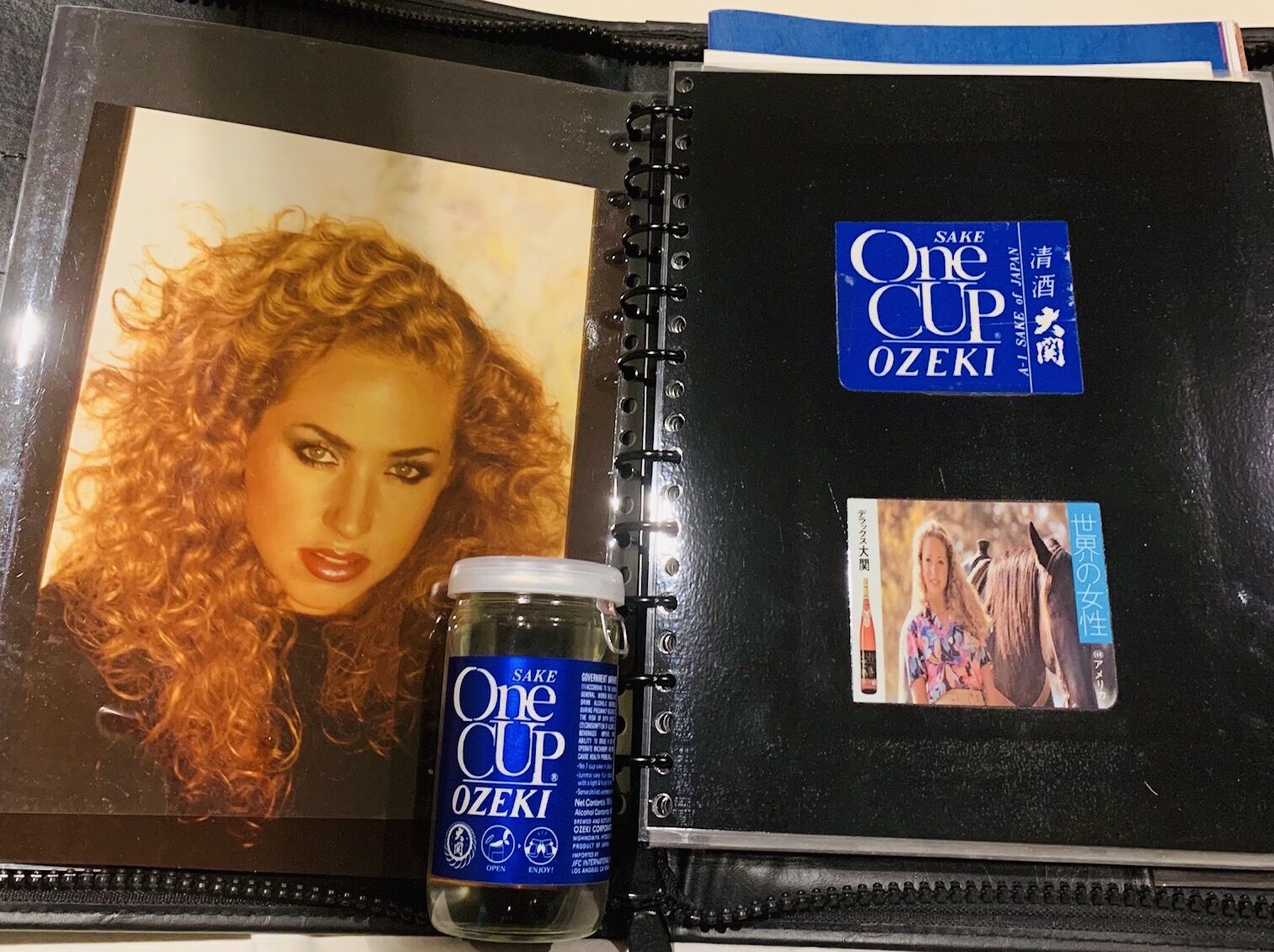 Shot in Los Angeles for a Japanese photo agency, shown above from what seems like a lifetime ago, is my first modeling job on the right. Looking back now, acknowledging the fact I was not old enough to legally drink the sake, this was the beginning of my strong desire to "taste" Japan.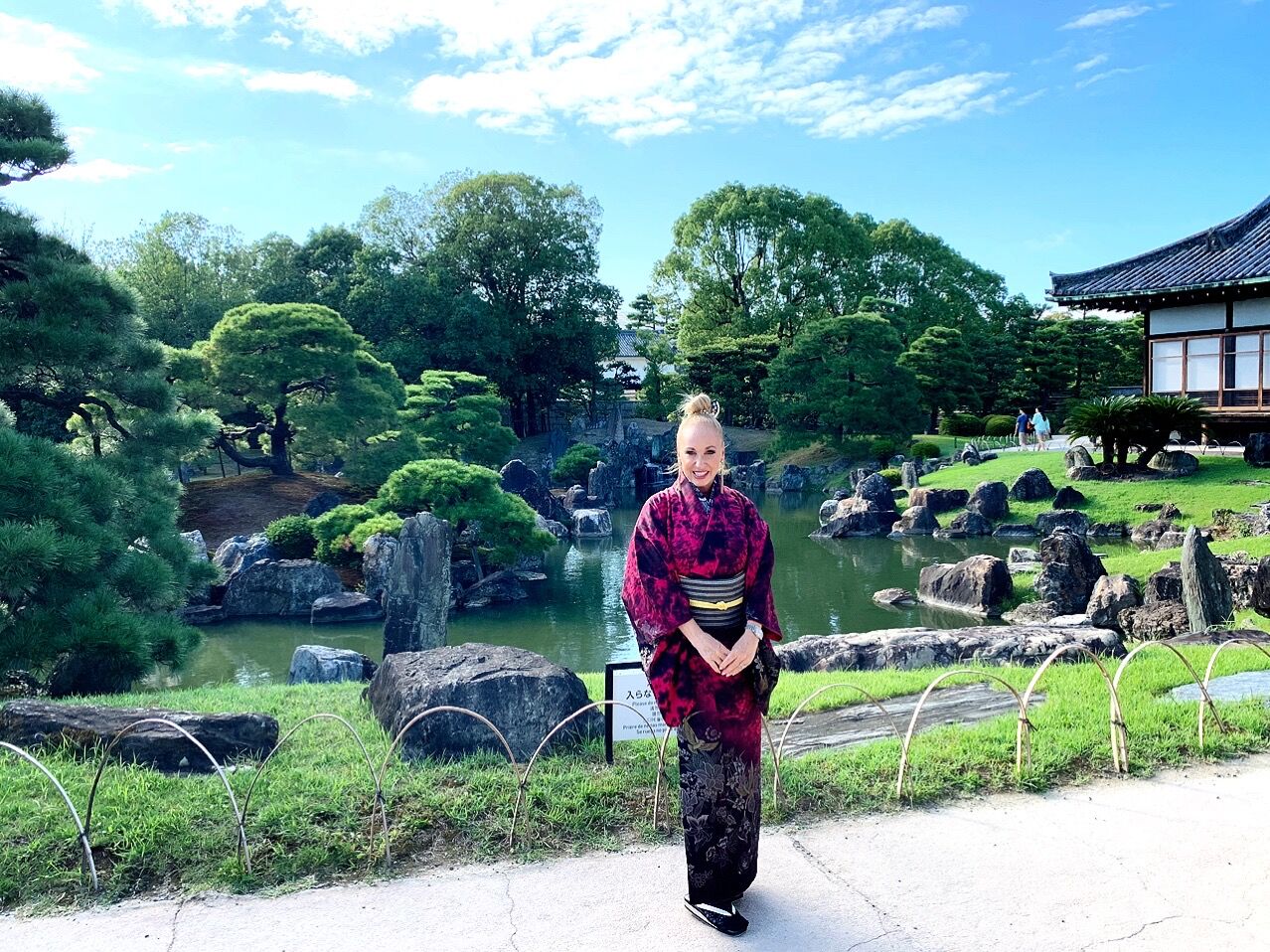 How rewarding, decades later, fulfilling a childhood dream and truly savoring this extraordinary bucket-list destination, embracing its old rituals and modern discoveries. My "aha" moment of appreciation, experiencing first-hand Japan's rich folds of history, traditions and culture. 
Linda Cooper is an award-winning TV host, producer, and writer serving as a brand ambassador to worldwide travel on her national luxury lifestyle series "Travel Time with Linda" as well as a contributor to several lifestyle and travel publications. Her specialties include television and in lifestyle publications include the travel lifestyle luxury tourism hotels, food/wine, fitness, spas and luxury...
(read more)