What makes a sunny day even better? Extra shade from a pop-up canopy. You can use pop-up canopies for tailgating, beach days, camping, or backyard entertaining. Plus, there are different types of pop-up canopies with various features that go beyond providing shade. "Some pop-up canopies have additional features to enhance wind resistance, such as wind vents or leg weights," says Saskia Boogman, the Director of Social and Content for Kampgrounds of America. 
We spent hours researching the best pop-up canopies, focusing on features like size, material, weight, and release mechanism. We also spoke with Boogman, who gave us expert advice on choosing pop-up canopies based on sturdiness, design, and sun protection.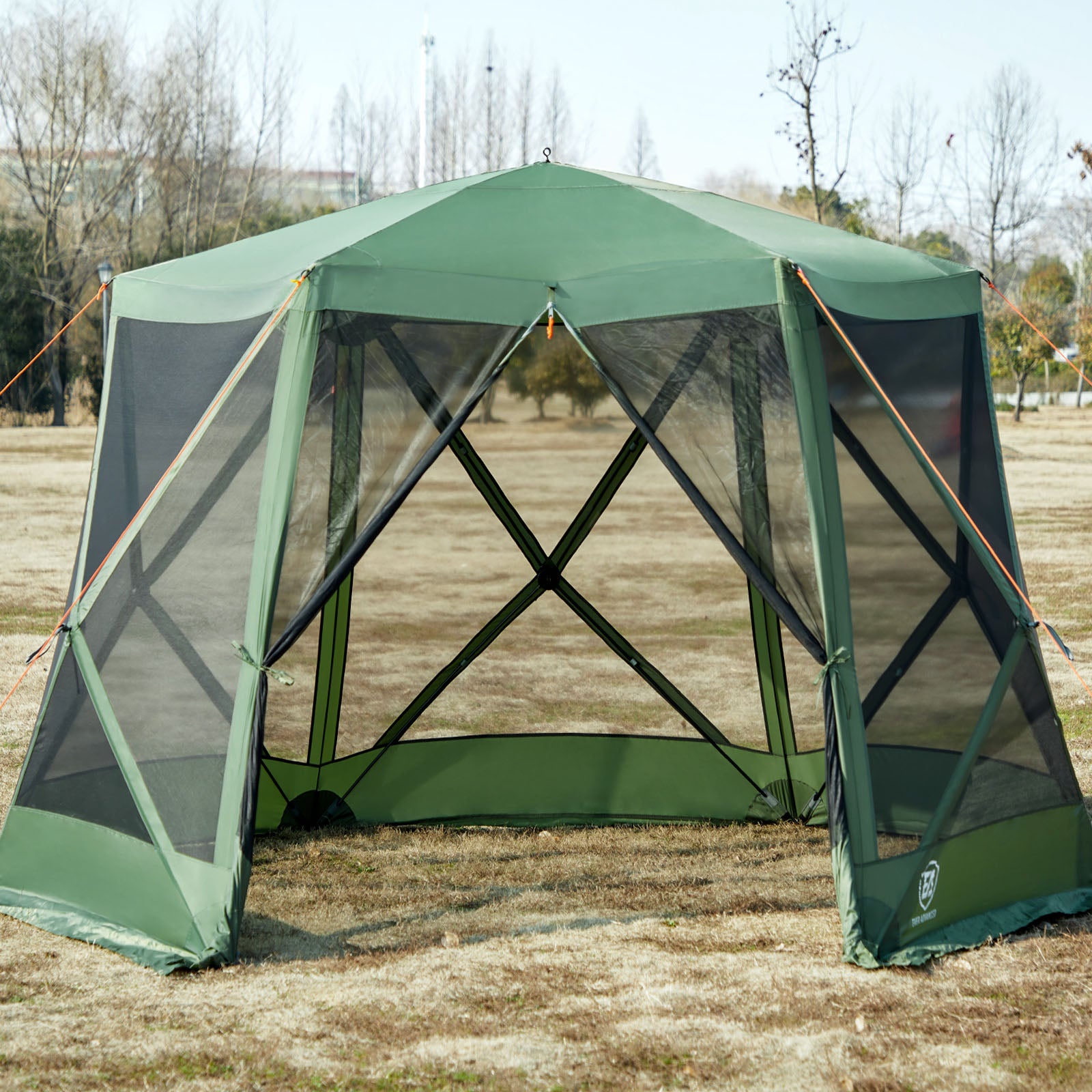 What's Great About It
It's lightweight and easy to transport.
What Could Be Better
It has an unusual shape that makes it hard to find a corresponding tarp to put on the ground under it.
Weighing only 21.5 pounds, this canopy is a fantastic option for campers who may need to trek to their camping spot. It is specifically designed to fit compactly in a car, measuring 54 inches in length and 7.8 inches in width. When set up, it can fit up to six people, plus has bug-proof mesh walls to keep bugs out. The mesh sides of the canopy also let air circulate easily, so you will feel comfortable and cool when the canopy is zipped up. One difference between this canopy versus our other canopy picks is that the frame and poles are made of fiberglass, not steel. The fiberglass allows the poles of the canopy to be more flexible (according to the seller). 
The only downside of this pop-up canopy is that its unusual shape means that it's hard to find a tarp to put on the ground, if needed. And, while the top of the canopy is great for water absorption, the mesh sides may not be suitable for heavy rain. 
Dimensions:11.5 x 9.8 feet |Material:Polyester, fiberglass frame | Weight:21.5 pounds | Release Mechanism:Pull down
Tips for Choosing the Right Pop-Up Canopy
Size
When it comes to size, you'll want to evaluate what you're going to use the pop-up canopy for. If you're looking for a canopy for your background, a more aesthetically pleasing canopy with netting is your best bet. If you're looking for a canopy to cover a folding table at tailgates or camping trips, you'll want a classic 8 x 8 foot or 10 x 10 foot canopy that's easy to set up and take down.
Material
Most pop-up canopies have a fabric canopy top and steel or fiberglass frame. You'll see that canopies and tents use a measurement called Denier (D), which measures the weight of the individual threads. A higher Denier means that the fabric is thicker and more durable. When it comes to canopies, you should look for a fabric that is at least 150D.
If rain protection is important to you, you'll also want to look for a polyurethane (PU) coating, which adds an extra layer of protection to the fabric. Just take note, though, that this coating will degrade over time, and it doesn't make the fabric itself stronger. Some canopies come with waterproof ratings that are measured in mm—aka, the amount of water that the fabric can hold before it starts leaking. Ratings of 1500mm or higher are considered waterproof.
Some canopies also offer UV protection. This rating is called the Ultraviolet Protection Factor (UPF), which indicates how much the fabric can protect from UV radiation. A UPF rating of 50+ is considered the best, as it protects against 98 percent of UV rays. 
Release Mechanism
The release mechanism of a pop-up canopy gives you insight into the difficulty of the setup and takedown process. All of our picks have fairly quick setup and takedown processes, but some are more straightforward.
Our picks with a pull pin as the release mechanism require more steps, since you need to pull all the pins before you can close the canopy. The release mechanism greatly indicates how much time you will spend setting up and taking down the canopy. All of our picks, though, have very straightforward directions. 
Features
The features of a pop-up canopy will depend on what you're using your canopy for. If you are taking your canopy to the beach or live in a rainy area, you will want a water-resistant pop-up canopy with vented tops.If you are going on a hike and camping, you will want a canopy that is easy to transport and provides privacy, like the Ever Advanced Pop-Up Screen Tent.
Side walls are another feature to consider. Most canopies that come with sides are optional, so you can use them as needed, and are either solid or mesh. Mesh sides are better for airflow, but both options will help keep out bugs and rain.
What type of canopy is the sturdiest?
Saskia Boogman, the Director of Social and Content for Kampgrounds of America , says frame material, frame design, fabric quality, wind resistance, and ease of use contribute to a canopy's sturdiness. Boogman recommends choosing canopies that have a frame created with durable materials, like steel or aluminum. She also notes that sturdy canopies will have features like "reinforced truss bars, cross-bracing, or additional support beams." Wind resistance qualities will contribute to a canopy's sturdiness, especially if the canopy has wind vents or leg weights. 
Lastly, a canopy's ease of use does actually contribute to its sturdiness. "While not directly related to sturdiness, a canopy that is easy to set up and take down properly can contribute to its overall stability," said Boogman. "Ensure the canopy has a reliable locking mechanism and the setup instructions are clear and user-friendly."
Although all these qualities contribute to a canopy's sturdiness, Boogman says canopies do have limits when up against harsh weather. "It's always a good idea to use additional tie-downs or stakes to secure the canopy properly and take it down if the weather conditions become severe."
Is a straight or slant leg canopy better?
Choosing between a straight or slant leg canopy may seem like an easy choice, but these two features serve different purposes. "Straight-leg canopies typically offer better stability and resistance to wind because of their vertical support," says Boogman. Straight-leg canopies generally have more shade and take less time to set up. 
In contrast, slant-leg canopies are more spacious and portable. "Portability and size are a significant advantage, as they are typically lighter and more compact than straight-leg canopies," says Boogman. "They tend to take up less space and are suitable for smaller areas."
What color canopy is best for sun protection?
Boogman says a darker canopy will provide more sun protection than a lighter-colored canopy. "It's important to note that regardless of the color, canopies labeled as 'UV-resistant' or 'UPF-rated' offer better sun protection," says Boogman. "They are specifically designed to block harmful UV rays."