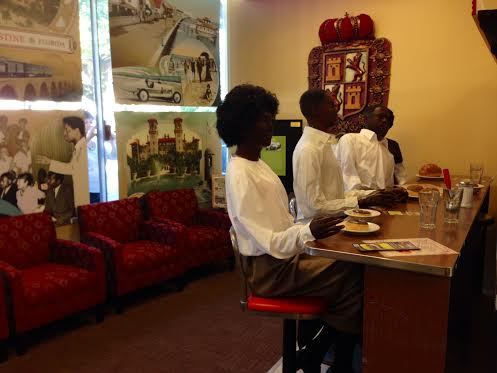 Recently tthis month, even as we head toward the end of the year marking the 50th anniversary of the Civil Rights Act, I found myself visiting America's oldest continuously occupied city, St. Augustine, for the first time since a long-ago trip with my family as a kid. I expected to find some of the same things - the massive old Castillo San Marcos fort and the historic downtown, of course, plus a whole raft of new amenities and attractions. And that I certainly did. But I also found something else which took me completely by surprise: more than once, this city broke significant ground in the history of black men and women in North America, and what's more, all of us owe events that happened here a bigger debt than many of us realize.

The riveting tale unspooled from the lips of Bernadette Reeves (below), a charismatic, no-nonsense historian and storyteller originally from Rochester, New York who among other things gives black heritage tours for free at least two Saturday afternoons a month under the auspices of local company Tour St. Augustine. It's a heritage which reaches all the way back to the Spain's conquistadores, one of whose number was a certain Juan Garrido, born in Africa but emigrated to Iberia, ending up in Juan Ponce de León's 1513 expedition that first came ashore near present-day St. Augustine and christened this landmass "La Florida."



True, it's fair to say that Garrido turned out to be ephemeral and indirect, but then flash forward more than two centuries. By 1738, St. Augustine had been an established garrison town for nearly 175 years  and had become a player in the skirmishing between the Spanish and the English in the Americas. In that year, Florida's Spanish governor chartered a new settlement a bit of a ways inland from town. The wooden garrison of Gracia Real de Santa Teresa de Mosé was set up as the first legally sanctioned free African settlement in North America, and became a refuge for escaped slaves from the English colonies in the Carolinas and Georgia - kind of like the original Underground Railroad, but southward instead of northward. Pretty much all the refugees had to do upon reaching Fort Mose (as it's since become known, pronounced "mo-zay") was agree to convert to Catholicism, and many unsurprisingly fought for the Spanish against the English on various occasions. Today the original fort is gone, but at the site (declared a National Historic Landmark) there's a very well-designed, multimedia visitor's center (above) that lays out the history, along with some beautiful grounds, including a walkway over a marshland that nature lovers will enjoy.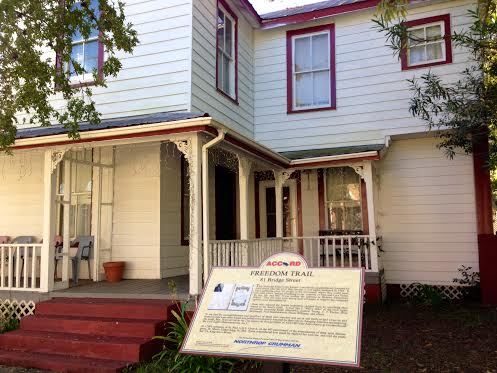 Key to the Civil Rights Movement

Now flash forward another two and a quarter centuries. In the early 1960s, St. Augustine is part of the deep Jim Crow South, and is about to become part of the civil rights movement. But whereas names like Little Rock, Birmingham, and Montgomery stand out most in memory all these years later - at least for those like me who haven't studied this chapter of history in depth - it turns out that it it's here, relatively off the beaten path, that the events of 1963 and especially 1964 provided the final shock needed to pass the Civil Rights Act in a balky, filibustering Congress (gee, sound familiar?).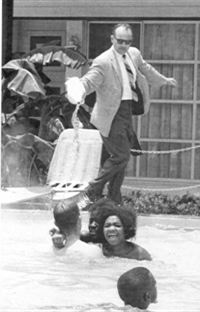 Bernadette Reeves  shepherds a little group of us along the "Freedom Trail" through a modest neighborhood just outside downtown called Lincolnville, founded after the Civil War by freed slaves and named, of course, the president who issued the Emancipation Proclamation. "Ms. B" has done this spiel hundreds of times before, yet the passion is clear in her voice as we stand in front of the modest house where Dr. Robert B. Hayling once practiced dentistry. A local NAACP leader who became the father of the movement in St. Augustine, Hayling was once beaten within an inch of his life (today he's still alive and well and living in Fort Lauderdale). The First Baptist Church. The Tyson family home (above), a white clapboard where leaders met to plan strategy and Martin Luther King once overnighted. The Wells Fargo Bank on the Old City's main square which preserves the Woolworth lunch counter that was the site of a key sit-in. The Hilton St. Augustine Historic Bayfront, a lovely property on the site of the Monson Motor Lodge, on whose steps King was knocked down and arrested, and in whose pool the motel manager poured what he claimed was muriatic acid on young black and white civil rights activists staging a "wade-in" (right; an updated version of the pool is still here, below, and the steps have been preserved off to one side of the parking lot).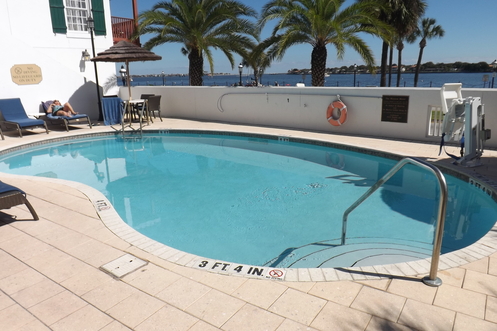 It was the stories and images in the press of this and other nastiness and brutality - such as Andrew Young being bludgeoned unconscious by Ku Klux Klan thugs during a march down King Street - which helped lead to the collapse of the filibuster in Congress. This didn't necessarily mean an immediate happy ending in St. Augustine, though - in fact, notes Reeves, the situation in a way grew even more hostile for them after the movement prevailed, and some black-owned businesses even collapsed. But even so, obviously these were events and a year that over the long term did lead to enormous and irrevocable change in America. It was hard not to listen to these stories and visit these sites without a lump in the throat.

So yes, here we are a half century later in the era of Barack Obama and Oprah Winfrey, of multimillionaire CEOs, entertainers and athletes of color, not to mention millions of middle-class professionals. And yet, there's also Ferguson, Missouri and Trayvon Martin; voter suppression rising again in the South (and not just the South); continuing unequal treatment by our justice system; and de facto segregation in various realms of society. That's why it behooves us all to take another look at the bravery, the agony, and the hope of that very different time, and do what we can to reabsorb its lessons. And America's Oldest City is an extraordinary place to experience it, along with some of this country's most swashbuckling history.

For more details on St. Augustine, click here. For a taste of the indefatigable Bernadette Reeves in action, check out the video below: