Thinking of coming to the playa in Spain this coming summer? Well, if you're also a fan of all-over tans, nude beaches mark nearly a half century in this country, which has sprouted a whopping 400 where you can swim starkers and sun your bum to your heart's content. Here are nearly two dozen of the top choices!

Andalusia
Bolonia (Tarifa, Cádiz)  One of Cádiz province's loveliest and most popular strands, with turquoise waters and natural pools created by the rocks; its far left end, called El Chorrito, is designated nekkid.
Nueva Umbría (Lepe, Huelva)  On Huelva's west coast, 40 minutes from Huelva city, you can strip down in the central section of this unspoiled stretch a whopping 7½ miles (12,000 meters) long.
El Ruso (Albuñol, Granada)  An isolated, 984-foot (300m) stretch of gray sand and limpid water seven kilometres (just over four miles) outside town. Fun fact: it's dubbed "The Russian" after a 1920s Soviet defector who lived nearby and built the pathway here. Очень хорошо!
Vera Playa (Vera, Almería)  In this famously nude-oriented beach community (above) seven mi. (10km) from the slightly inland town of Vera, the top clothing-optional area is toward the north in an area called El Playazo. (site of the Guiness World Record skinny dip). Spain's only nudist hotel, the Vera Playa Club Hotel, is located nearby.
Asturias
Torimbia (Niembro, Llanes)  One of Asturias' prettiest playas features 500 metres (feet) of fine white sand and chilly surf, surrounded by cliffs more than 50 metres (feet) high. The trail is fairly easy, and it's 12 km (7½ miles) to the picturesque seacoast city of Llanes.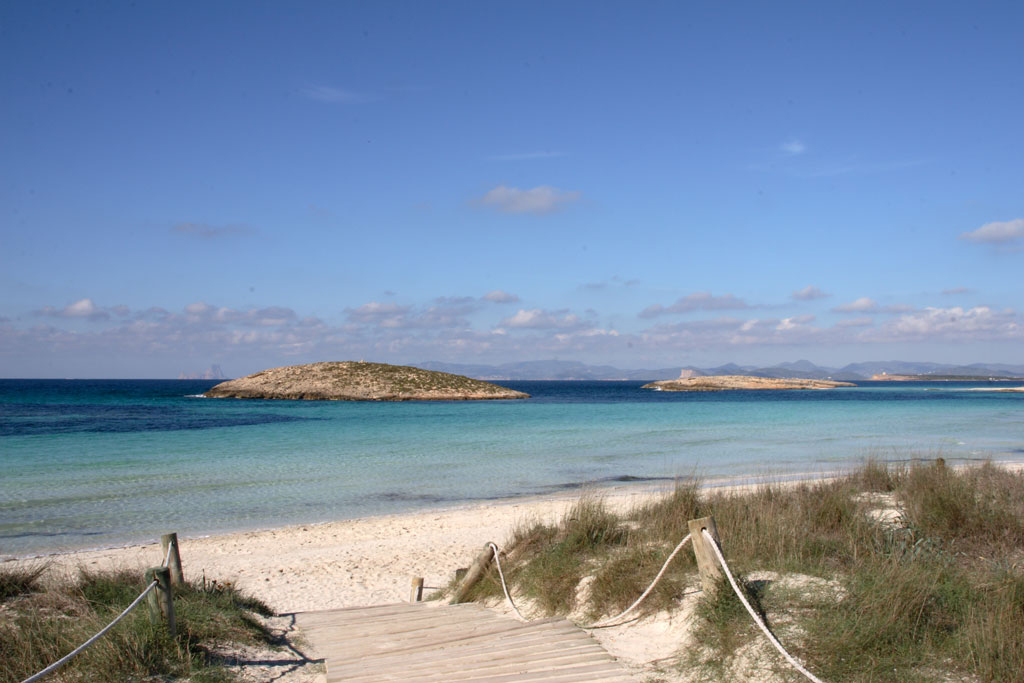 Balearic Islands

Cala del Pilar (Minorca)  At the foot of a cliff on the island's north coast, northeast of the city of Ciutadella, this a u-shaped cove has reddish-golden sand and calm, shallow waters. It's a little bit of a hike to get to, though - just over a mile (nearly two km) on a path through woods.
Es Cavallet (Ibiza)  A drive of just 15 minutes or so from Eivissa/Ibiza Town, you'll find a picturesque setup tucked behind dunes, a woodsy strip, and an area of salt flats and boasting lovely white sand and turquoise waters. There are several restaurants, kind of a party atmosphere, and at the far end also a gay scene.
Ses Illetes (Formentera)  Sunbathing in the buff is permitido on all the beaches of the smallest Balearic island, and this is Formentera's premier strand, a paradisiacal spit of sand on the north coast across a lagoon from the island's main town Sant Francesc, lapped by crystalline azure waters, and surrounded by lush scenery.
Basque Country
Meñakoz (Sopelana/Barrika, Vizcaya)  With some of Europe's biggest waves (and therefore a favourite of surfers), this cove 15 mi. (24km) east of Bilbao is stony rather than sandy, windy,  and backed by cliffs. Access is down on foot via a long path.
Canary Islands
Cofete (Pájara, Fuerteventura)  Down on an isolated stretch of the windward coast of Fuerteventura's southernmost Jandía Peninsula, this 7½-mi. (12km) beach , strong currents, and is a bit of a production to get to, via bumpy dirt roads. Well worth it, say fanny-flashing fans!
Maspalomas (Gran Canaria) At this island's southernmost point, one of its most famous beaches is famous for the huge sand dunes behind it (above), with a fair bit of letting it all hang out (and even the occasional frisky activity). The main stretch is usually fairly crowded, the clothing optional sections a bit less so.
Los Patos (Tenerife)  The volcanic-black-sand "Ducks Beach," in one of a trio of coves just outside Puerto de la Cruz, below Orotava. It's a little tricky to find - then involves negotiating a steep trail down to the sand.
Cantabria



Covachos (Santa Cruz de Bezana, Cantabria)  Considered one of Cantabria's loveliest beaches, this 690-metre half moon with fine golden sand is framed by limestone cliffs and located just across from the even more sheer cliffs of Castro Island (which can be reached on foot at low tide). It's some 10 kilometres (seven miles) west of Santander.
Catalonia 
La Mar Bella (Barcelona city)  Brought into being on Barcelona's Poblenou waterfront by the urban renewal generated for the 1992 Olympics, this four-kilometre (-mile) city strand (above) between two breakwaters along the Passeig Marítim promenade is popular especially with young people, gay folks - and nudies, yay.

El Torn (Vandellòs/Hospitalet de l'Enfant, Tarragona)  Fine sand and crystal waters backed by low woods, this tranquil, 4,593-ft.1,(400m) gem of a naturist beach is near the resort town of Salou. There's easy on-foot access, and a nudist campsite nearby.
Platja de l'Home Mort/Playa del Muerto (Sitges, Barcelona), or "Dead Man's Beach" in English (abpve), is a bit of a stretch past the main city strands - 50 minutes on foot, or you can take a taxi to the old Atlántida disco and walk the last ten minutes. One of these pebbly stretches is more "general public" (including families with kids), while the other is for gay men (including some degree of frolicking in the shrubbery above the beach).
Galicia
Figueiras (Cíes Islands, Pontevedra) In a lovely natural setting out on the islands across from the city of Vigo, this strand with 1,150 ft. (350m) of white sand and chilly Atlantic waters is one of the most popular in Galicia, as well as particularly popular with folks who like to take their clothes off.
Murcia
El Portús (Cartagena)  A rocky, sheltered cove some six mi. (10km) from downtown Cartagena is home to a pebble beach that's one of the Mediterranean coast's butt-baring meccas, with a nudist colony right alongside. Amenities include a chiringuito (snack bar) and toilets.



Valencia

La Cala de Aiguadolç (Dénia, Alicante)  In a nature reserve a short hop south of the popular resort city of Dénia is another discreet clothing-optional cove with a petite (262-ft./80m), pebbly strand, fine snorkeling, and nearby restaurant.
El Saler (Valencia) South of Valencia city and a five-minute stroll south of the town of El Saler is one of the region's more popular beaches, some 8,530 ft. (2,600m) of tawny sand with clothing-optional areas next to the Albufera Nature Reserve.
La Solsida (Altrea, Alicante)  On a pebbly, semi-wild, half-mile (800m) stretch (above) amid lush vegetation just north of the marina of a resort town (20 minutes north of Benidorm and 45 to Alicante city), there's a zone that attracts enthusiasts of swimsuit-free beaching.