Sure, Costa Rica has plenty of gorgeous beaches, and they are a big draw for visitors. On the other hand, the country's interior is bursting with amazing tropical landscape, sights to see and things not to miss.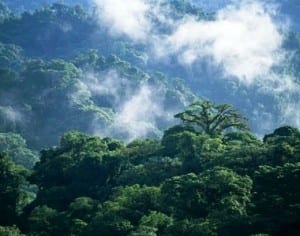 There are active volcanoes, towering rugged mountains, lush valleys, rushing rivers, waterfalls, and breathtaking rainforest and cloud forest.
One sight to see and definitely not to miss is the Monteverde Cloud Forest. Located in Costa Rica's Central Highlands in the Tilaran Mountain Range, the lofty, cloud-wreathed mountaintop of Monteverde is one of Costa Rica's main tourism destinations. Cloud forest comprises only 1% of the planet's global woodlands. Monteverde's rare ecosystem is internationally famous as one of the most extensive cloud forests in Central America
and a "jewel in the crown" of world cloud forests. At 1,800m (5,900 ft.) elevation, this natural sanctuary is blessed with an "eternal spring" climate – fresh, misty and chilly, with pockets of warm sunshine and rainbows.
Cloud forest is rain forest up high, where the tropical coasts' warm air condenses into persistent fog and mist, and moisture is more consistent drizzle than rain showers. In this cathedral of green, trees drip with dew-soaked hanging moss and vines, splashed with colorful delicate orchids, bromeliads, epiphytes and ferns in all shapes and sizes. More than 2,500 different types of plants and animals, including 400 species of birds, call Monteverde's cloud forest home.
An incredibly unique way to experience Monteverde's cloud forest is on a replica vintage steam train traveling on narrow-gauge railway tracks into the shimmering, dewy green. The Monteverde Cloud Forest Train adventure
is a highlight for any visitor."Trainforest" is perfect for everyone – from age 2 to 92 or beyond – an especially fun family day trip, and the tour is handicapped accessible.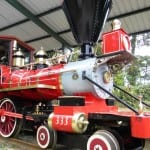 A shiny red and black locomotive engine pulls 3 comfortable old-fashioned rail carriages 6 km (3.7 mi) down railway tracks across a former cattle ranch and into primary cloud forest. A bilingual naturalist guide informs you during the journey about the forest and general area, and points out any wildlife to be seen.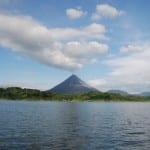 After riding about 30 minutes, you disembark at a viewing platform where you are treated with a breathtaking panorama of majestic Arenal Volcano, Lake Arenal and the lush extinct volcano, Cerro Chato. You'll also see the grand
San Gerardo Waterfall, source of the headwaters that feed Lake Arenal. You can stay at the viewing platform, gazing out over the surrounding protected forests of Arenal National Park and the Children's Eternal Rainforest. Or go with the naturalist guide for a short walk on an easy natural trail to learn more about this impressive ecosystem. When you get back, the staff serves you a delicious fresh coffee or steaming hot chocolate and snacks.
Then it's all aboard again to return to the Central Station. Clouds rushing by, green treetops, bright tropical plants, fresh breezes, chattering birds and insects …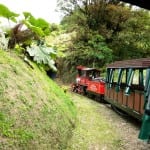 It's a perfect Monteverde day! Trainforest's 90-minute journey departs every hour between 8:00 am and 4:00 pm, every day of the year. Each train carries 50 passengers in three rail carriages. The tour is completely handicapped accessible (excluding the forest nature walk). In case of rain, each train carriage is outfitted with secure transparent plastic curtains for weather protection.

By Shannon
Related articles