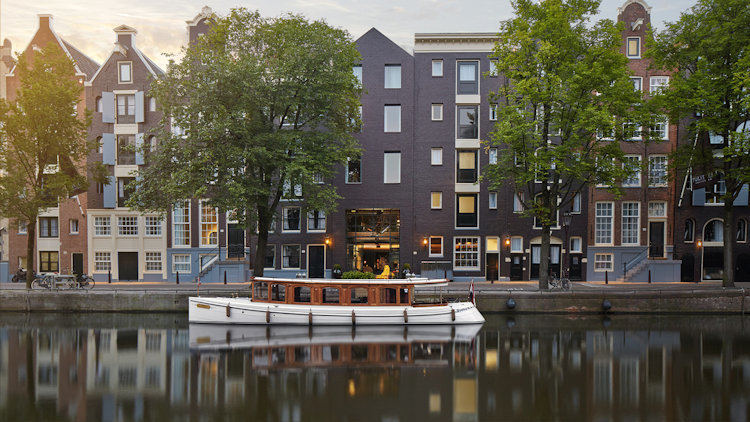 There is something so inherently romantic about canals, dreamily gliding across its idyllic waterways with the one you love. To celebrate our 30th wedding anniversary, my husband and I chose Amsterdam; a capital of romance with its cobbled streets, bouquets of blooms and rich culture to commemorate our "pearl nuptials".

We stayed at the famed Hotel Pulitzer Amsterdam and in a stroke of pure serendipity discovered the iconic hotel was also celebrating its own milestone this year, marking its legendary 50th birthday.

Peter Pulitzer (Grandson of Pulitzer Prize founder Joseph Pulitzer) opened the Hotel Pulitzer in 1970 with its historic 400 years of heritage in the heart of Amsterdam's historic City Center, a UNESCO World Heritage Site. Set within an intricate maze of twenty-five restored 17th- and 18th-century canal houses, the iconic luxury hotel is a historical discovery with a long and illustrious past dating back to its former residents of the Golden Age.
No two rooms designed the same in a nod to Amsterdam's rich past and contemporary present, we awoke each morning to a stunning canal view in our charming eclectic suite with its classic beauty and traditional Dutch craftsmanship.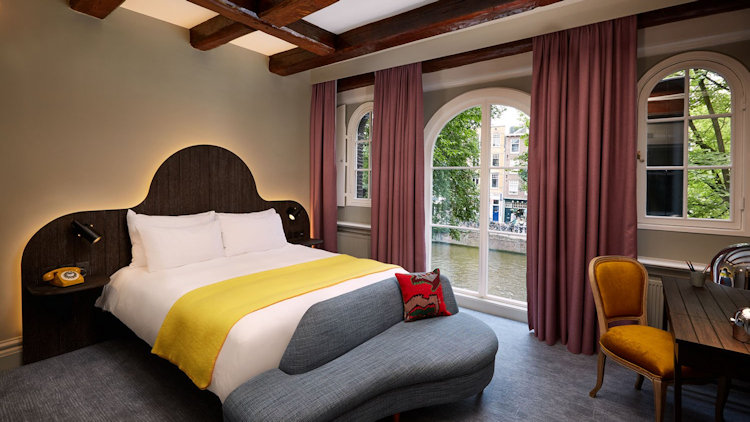 Within the walls of each room hangs a plaque, sharing the story of its past canal house owner and very fittingly to honor its golden milestone in style, the Hotel Pulitzer Amsterdam is bringing the stories back to life with its "Stories To Stay" promotion to celebrate its 50th anniversary.

Located in the fashionable Nine Streets on the doorstep of the colorful Jordaan neighborhood, the Pulitzer stands center stage amidst a picturesque array of shopping boutiques and charming cafes.

With so much to see and do in Amsterdam, we enjoyed the hotel's prime location exploring The Museum District, The Anne Frank House, and the Flower Market all within a short distance from the hotel.

Perhaps the most unforgettable experience was our private "Tour d'Amour," cruising the canals in luxurious style with Classic Boat Tours.

Stepping aboard our sweetheart Prix D'Eau boat, the warmth of its wood enveloped us instantly in a wave of authenticity and love in which the ship had been restored built over a century ago to its current beauty.
We nibbled on a champagne brunch of delectable treats as our knowledgeable boat captain shared Dutch history, fun facts, and famous landmarks from the water.

Undeniably Amsterdam is most beautiful seen from the water, taking in the sights - an absolute bucket-list must when visiting the stunning capital of the Netherlands.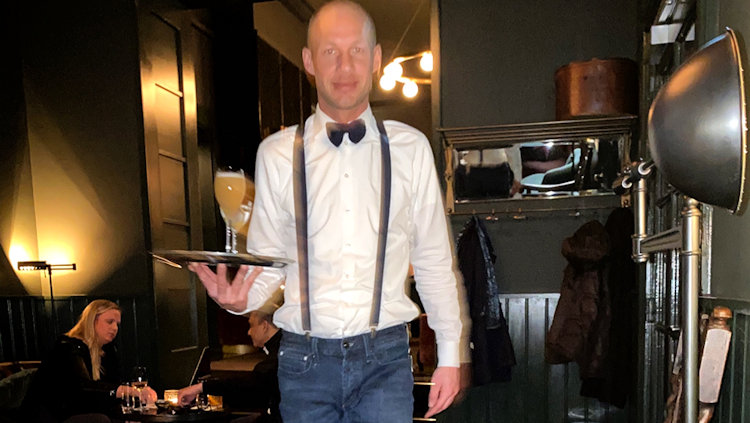 In the evening we'd retreat to the timeless Art Deco glamour of the Pulitzer's Bar.  Sipping cocktails while overlooking the signature canals in our plush jewel-toned armchairs, reflecting on the day's adventures, relaxing in its old school, speakeasy elegance.

Amsterdam is easily one of the most romantic cityscapes in all of Europe, providing a striking backdrop for centuries of love stories.

Inspired by our surroundings basking in its magical aura, we celebrated our anniversary in true "stories to stay" spirit, toasting to 30 more years and joined the special rank of hotel guests whose stories bring the Pulitzer Amsterdam to life.

Linda Cooper is an award-winning TV host, producer, and writer serving as a brand ambassador to worldwide travel on her national luxury lifestyle series Travel Time with Linda as well as a contributor to several lifestyle and travel publications. Her specialties include television and in lifestyle publications include the travel; lifestyle; luxury; tourism; hotels; restaurants; food/wine; fitness; spas; and retail shopping industries. Season one of Travel Time with Linda Caribbean Dreaming aired nationally on AXS TV Network, winning a 2018 Telly Award; it's available on Amazon Prime Video. Season two , featuring bucket-list destinations, airing in 2019, was similarly honored and is now streaming on Prime. Season three, currently in pre-production, shines the spotlight on the world's most incredible geothermal natural wonders and will air in 2021.