The romance of traveling by train never fades. Trains mean a journey. The feeling of travel while sitting on a train is unique. The scenery flows past in a way not like from an airplane or in a car – especially if you're the one driving and you can't sightsee, but also because a train crosses countryside instead of following busy roads.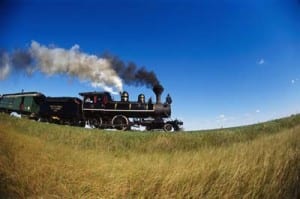 Steam trains especially conjure up romantic images of long black locomotives puffing their smoky way across vast plains in Africa, India or the North American prairies, or curving around snowy mountains in Europe or the Canadian or American Rockies. Trains are forever immortalized in famous books and movies, such as "Murder on the Orient Express," "Doctor Zhivago," "Ghandi" or "How the West was Won". The mystery of trains evokes the musing, "Who will I meet?" and "What far off places will I discover?"
I remember my first train journey. It was an overnight sleeper from St. Petersburg (then called Leningrad) to Moscow in 1991. The entire scene was impossibly "romantic" ... Communist Russia, snowy, steam from the long green trains billowing across the platforms, our little compartment where a "babushka" served us hot tea in silver cup holders, miles of conifer forest in the dark night, Russian military guards in long wool coats and tall black boots.

What could be more stylish than a trip on a traditional, narrow gauge steam train? In Costa Rica, you have that opportunity on the Monteverde Cloud Forest Train. You'll feel like a star in a movie scene riding in your shiny red and black carriages pulled by a replica of a real old-fashioned steam locomotive, click-clacking down narrow tracks into the shimmering, dewy green forest.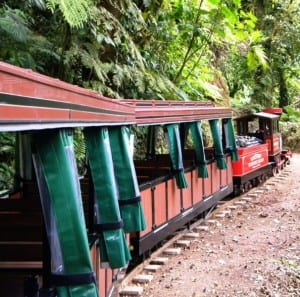 The Monteverde Cloud Forest Train, affectionately called "Trainforest," is perfect for everyone – from age 2 to 92 or beyond – an especially fun family one-day tour in Monteverde; the tour is easily handicapped accessible. Trainforest's 90-minute journey departs every hour between 8:00 am and 4:00 pm, every day of the year.
Two trains each can carry 50 passengers in three rail carriages. You travel 6 km (3.7 mi) down the tracks across a former cattle ranch and into primary cloud forest, with a bilingual naturalist guide informing you about the Monteverde Cloud Forest and pointing out any wildlife to be seen. Your destination is an observation deck on a ridgeline with stellar views of Volcano Arenal, Lake Arenal, Cerro Chato, San Gerardo Waterfall and the Children's Eternal Rainforest preserve.

Experience the romance of train travel yourself in the cloud forest in Monteverde, Costa Rica.
By Shannon