You've met the man or woman of your dreams. You've planned your wedding down to the last sugared almond and flower arrangement. Now it's time to think about the honeymoon.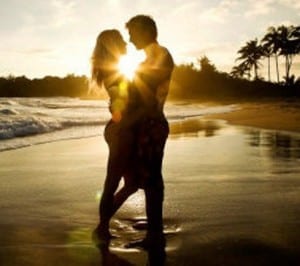 Costa Rica is one of the top destinations in the world for newlyweds to honeymoon. According to Perfect Honeymoons & Holidays Travel, Costa Rica ranks #3, right behind Hawaii and Italy, and outpaces other major destinations like Greece, Tahiti and the Caribbean. In 2012, 10.7% of Costa Rica's tourists (166,000 people) were newlyweds – a big jump from 4.3% in 2006, according to figures published by the newspaper El Financiero.
As a destination with multiple attractions, tropical climate, beautiful scenery and exotic character, Costa Rica is an ideal location for an unforgettable honeymoon getaway. Only a few hours' flight from North America, Costa Rica is blessed with spectacular beaches, enchanting rainforest, live volcanoes, and an abundance of nature and wildlife. Without a doubt, it is an exciting location that invites romance, rest and relaxation, as well as passion and adventure.
Here we've highlighted Costa Rica's best five honeymoon spots. Let your dreams and romance go wild!
Manuel Antonio, Central Pacific Coast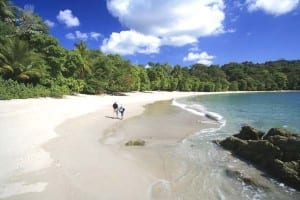 A favorite with all honeymooners, Manuel Antonio rests like a jewel on the Central Pacific Coast of Costa Rica. Its close proximity to the capital city of San Jose – only a 2-hour drive or a 20-minute local flight – means in no time you can be lounging on pristine sunny beaches and enjoying some of the world's most beautiful rainforests.
The area is famous for the Manuel Antonio National Park bustling with wildlife, and adventure activities like canopy tour ziplines, waterfall rappelling, whitewater rafting, kayaking, surfing, parasailing and horseback riding. Most of Manuel Antonio's resorts and hotels are situated along the mountainside hugging the coast, giving you spectacular ocean and sunset vistas for your romantic dinners. The town of Quepos is just before Manuel Antonio and is the jump-off place for most tours.
Trip ideas: Try these two Manuel Antonio vacation deals for all or part of your Costa Rica honeymoon: a 7-Day Tropical Paradise Vacation combining Manuel Antonio with Volcano Arenal, and a 4-night Manuel Antonio Luxury Condo Special.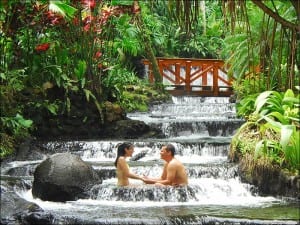 What could be more romantic than steamy hot springs, exotic rainforest, wild tropics, and luxury resorts, all in the shadow of a live volcano? Arenal Volcano in Costa Rica is one of the 10 most active volcanoes in the world. Surrounded by lush rainforest, the Arenal area is known for its waterfalls, adventure activities and the Arenal Volcano National Park. Let your passion heat up luxuriating in sultry volcanic mineral springs, and be pampered in one of Arenal's many resort spas. The most famous is the 5-star Tabacon Grand Spa Thermal Resort; the resort's award-winning hot springs are some of the most spectacular on the planet.
Trip ideas: Three Arenal Volcano vacation package ideas for your Costa Rica honeymoon: the Ultimate Costa Rica Rainforest Hot Springs Getaway to the famous Tabacon Resort; a 9-day Costa Rica Volcano and Beach Adventure to Arenal Volcano and Tamarindo Beach; and for the thrill-seekers a 7-Day Unforgettable Costa Rica Adventure Vacation combining stays and adventure tours at Volcano Arenal and Manuel Antonio.
Tamarindo Beach, Guanacaste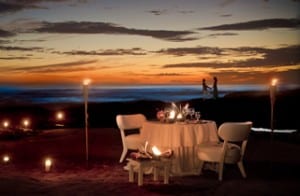 Tamarindo, on the Pacific Coast of Guanacaste, is one of Costa Rica's best-known beach destinations. Soft white sand, warm Pacific waters, sensational sunsets, top surf breaks, and a lively fun surf town – you can't go wrong for a fun, relaxing and romantic honeymoon.
Trip ideas: See these Tamarindo vacation specials for all or part of your honeymoon in Costa Rica: 4 nights at the posh Cala Luna Hotel on a Tamarindo Beach Travel Deal; a 9-day Costa Rica Volcano and Beach Adventure to Arenal Volcano and Tamarindo Beach; and a discount flight from San Jose to Tamarindo.
Nicoya Peninsula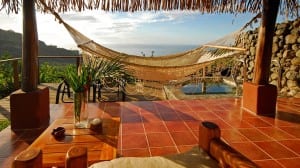 Looking to escape, where you and your honey can simply be completely in love with one another? Costa Rica's Nicoya Peninsula is your place … smaller hotels, private and isolated beaches, breathtaking scenery, less touristy, no crowds, and fine accommodations. Hotel Punta Islita gives you all of the romance and private intimacy you would want in a honeymoon destination. The beautiful boutique hotel is perched in the hills overlooking a quiet cove, and has a beach-side facility with a large free-form pool, gardens, lounge area and restaurant. This secluded paradise, with its fiery sunsets and warm ocean breezes, is also a nesting area for Leatherback and Hawksbill sea turtles.
Trip ideas: Enjoy 4 nights of honeymoon romance at Hotel Punta Islita on a Costa Rica Beach Resort Holiday special deal. Best way to get there is by local flight from San Jose.
Papagayo Gulf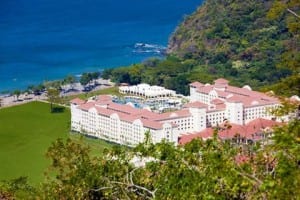 Costa Rica's home of 5-star ultra-luxurious beach resorts – such as the Four Seasons Resort, the all-inclusive RIU Guanacaste, the all-inclusive Occidental Grand Papagayo, and the Hilton Papagayo – the north Pacific Papagayo Gulf boasts the signature beaches of Costa Rica's Guanacaste region. The area is famous for long white and dark sand beaches, big waves, calm coves, dry tropical forest and plenty of sun. The Papagayo Gulf is located 30 minutes from the Liberia International Airport, and many visitors make this spot their home base for their Costa Rica vacation. Day tours to other regions like Rincon de la Vieja Volcano, Monteverde, and Arenal Volcano are easy.
Trip ideas: Check out this All-inclusive Hotel RIU Guanacaste Costa Rica deal and make Costa Rica's Papagayo Gulf your honeymoon paradise.
Costa Rica Special Deals is a dependable online travel service, based in Costa Rica, that offers top Costa Rica vacation and tour deals.
Article by Shannon Farley