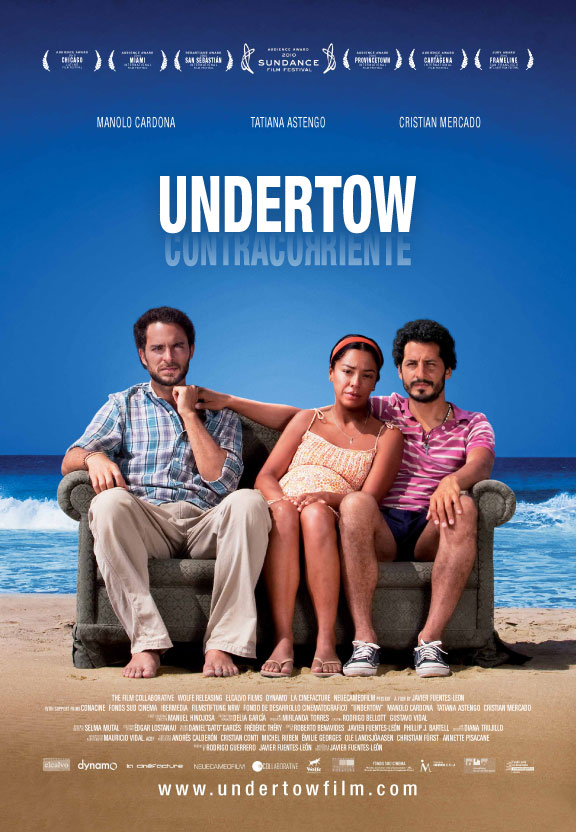 For your next tropical beach vacation, would you consider a couple of days in a bleak little town of cinderblock homes and corrugated tin roofs on the stark, dusty coast of northern Peru?

I didn't think so.

How about a couple of hours? I just did, courtesy of the new Coral Gables Art Cinema, a recently opened non-profit movie house in tony Coral Gables, Florida, about as far away from the fishing village of Cabo Blanco as you can get. While vicarious sightseeing is usually one of the main reasons I see foreign films, there wasn't much here, apart from some impressive rocky beaches, and you certainly won't see a lot of Peru. The real reason to see Undertow (Contracorriente in Spanish) is the raw, honest peek at the lives and passions of people you and I don't know, but by the end of the story wish we did: a hardscrabble community of cholos and mestizos eking out a living from the treacherous sea, living with a pre-smartphone intensity that is long gone from our presumably more sophisticated rear-view mirrors.

In this unlikely setting, a bisexual love triangle plays out with a depth of passion that brings to mind Giancarlo Giannini and Mariangela Melato in Lina Wertmüller's controversial Swept Away by an Unusual Destiny in the Blue Sea of August,  a classic battle of the sexes and social classes on a desert island, Italian-style. Undertow fights both battles, adding race for good measure, as poor fisherman Miguel Salas struggles with his very pregnant wife and his male lover, Santiago, a wealthy white painter (presumably from Lima) who's the object of most of the town's gossip. The struggle takes on a whole new dimension when the painter drowns in the eponymous undertow, but his ghost is condemned to follow Miguel until his body can be retrieved and properly offered to the sea, the quaint custom in Cabo Blanco. At this point, the story reminded me of Brazil's Dona Flor and Her Two Husbands, one of whom was dead, but that didn't stop them from carrying on. These boys don't stop carrying on, either, but it's not quite necrophilia, since the body is missing for much of the story, and making out with a ghost is much cuter. But I don't mean to sound flip: the emotional undertow of Undertow is so intense, the setting so bleak and yet sensuous, the characters so profoundly real (even the ghost), that you might find yourself wondering why it's only won some 40 awards (including the Sundance Film Festival's World Cinema Audience Dramatic Award). You might even find yourself reconsidering corrugated roofing next time you're at Home Depot. And a vacation in Cabo Blanco.

P.S.: Bring along an extra hanky, just in case. Available on Netflix.