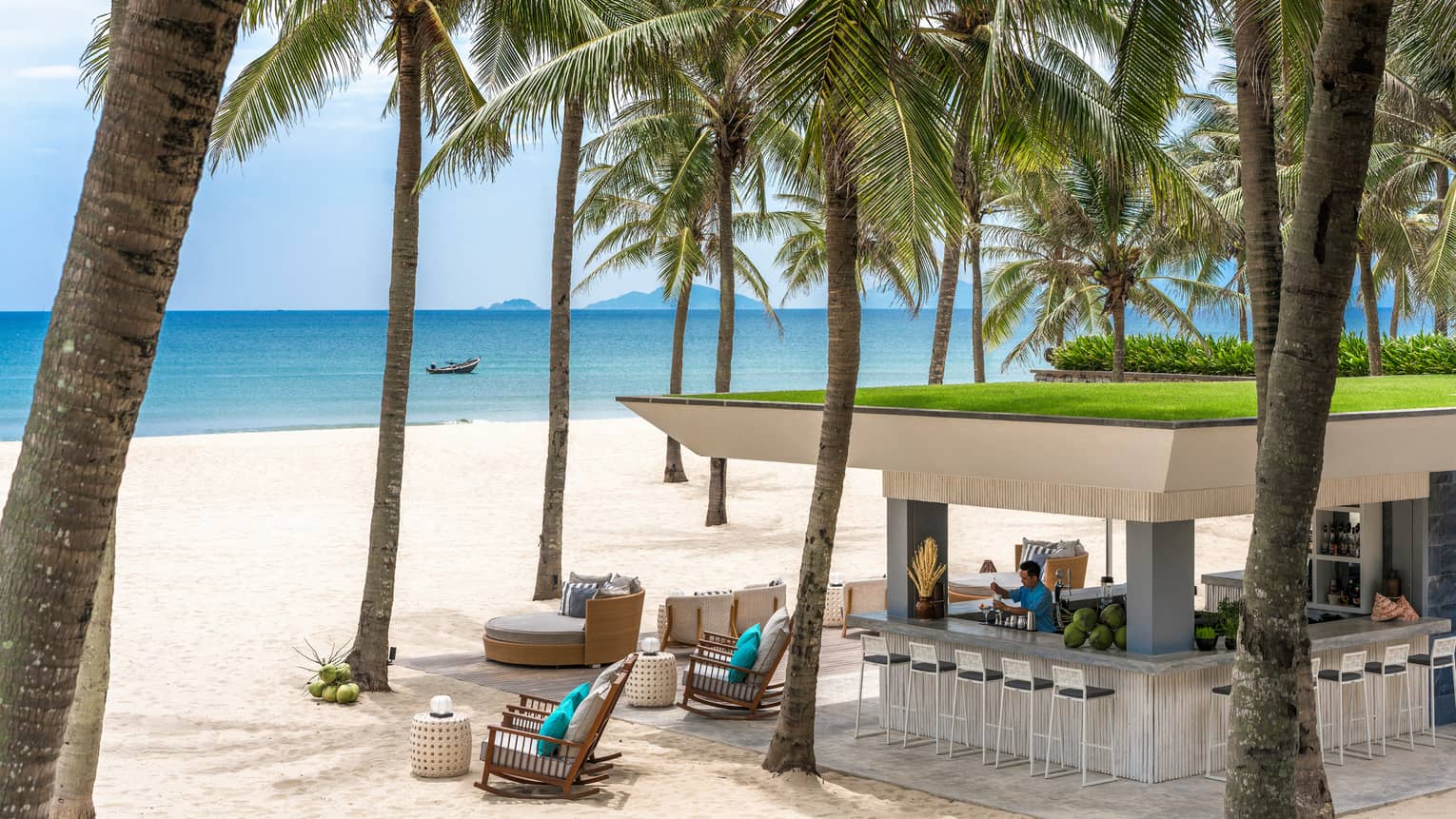 I once read a quote that "time wasted at the beach is time well spent." Tranquil and serene, beaches have that magic, that makes you forget the outside world, and time spent here is the time he/she gives to him/herself, sitting for hours gazing at the azure tides and listening to the rhythm of water. At the same time, some can also offer adventurous water sports, to get your adrenaline flowing. And Vietnam and Cambodia offer all of the above, along with some fabulous luxury resorts at which to enjoy it, whether you're a honeymoon couple, a family, a group of friends, or on your own. Here are my top picks - mostly luxury, with a couple of budget picks thrown in, and mostly on the beach, with a couple of very key exceptions:


Vietnam
If you're in search of peace and serenity, believe it, this place is paradise. On Vietnam's south central coast in the resort town of Nha Trang, it's more than 13 hectares of beachfront and landscaped groups along with delicious food and fantastic amenities including a spa, infinity pool, kids' play areas, and much much more.



For luxury and privacy, the local outpost of Vietnam's resort group Vinpearl offers a state-of-the-art experience. You will be spellbound by the spectacular ocean views from your villa, each of which has its own pool. Besides superb Vietnamese dining, amenities include a world-class spa, 18-hole golf course, tennis courts, and gym. This is also one of the best beach resorts in Vietnam for families.



Another superb Nha Trang property, this one is a relative newcomer (opened in 2017), its 77 elegant villas and 136 rooms/suites all with grand, sweeping balconies or large outdoor terraces. Amenities include three pools, four restaurants (traditional Vietnamese home-style cooking, fusion tapas, beach barbeque, and gourmet finedining), a bar, a heavenly spa, and Vietnam's first resort 3D movie theater. There are a few cool extras, too - how about learning a bit of Vietnamese martial arts? And not only is there a kids club, but those under age 11 stay free!
InterContinental Danang Sun Peninsula Resort

Seven hours north, on the central coast, the coast near the city of Danang (and also not far from Vietnam's ancient UNESCO World Heritage capital Hoi An) is also a fast developing resort area, and this eight-year-old spread near the airport is a perfect mix of local charm and urban sophistication. Each of the 197 suites, bungalows, and villas has a private balcony and sundeck at minimum; the spa is dreamy; and a pair of restaurants serves Vietnamese and French (the latter presided over by a Michelin-starred chef), with dining on the sand a lovely option. It's a winner for destination weddings as well as meetings, too.
Four Seasons Resort The Nam Hai

Also near Hoi An, this beautiful all-villa property provides the best of both worlds - resort luxury as well as cultural activities. Features include three beachfront pools, two restaurants (one Vietnamese, one international), and an overwater spa is staffed by certified Zen trainers.


Cambodia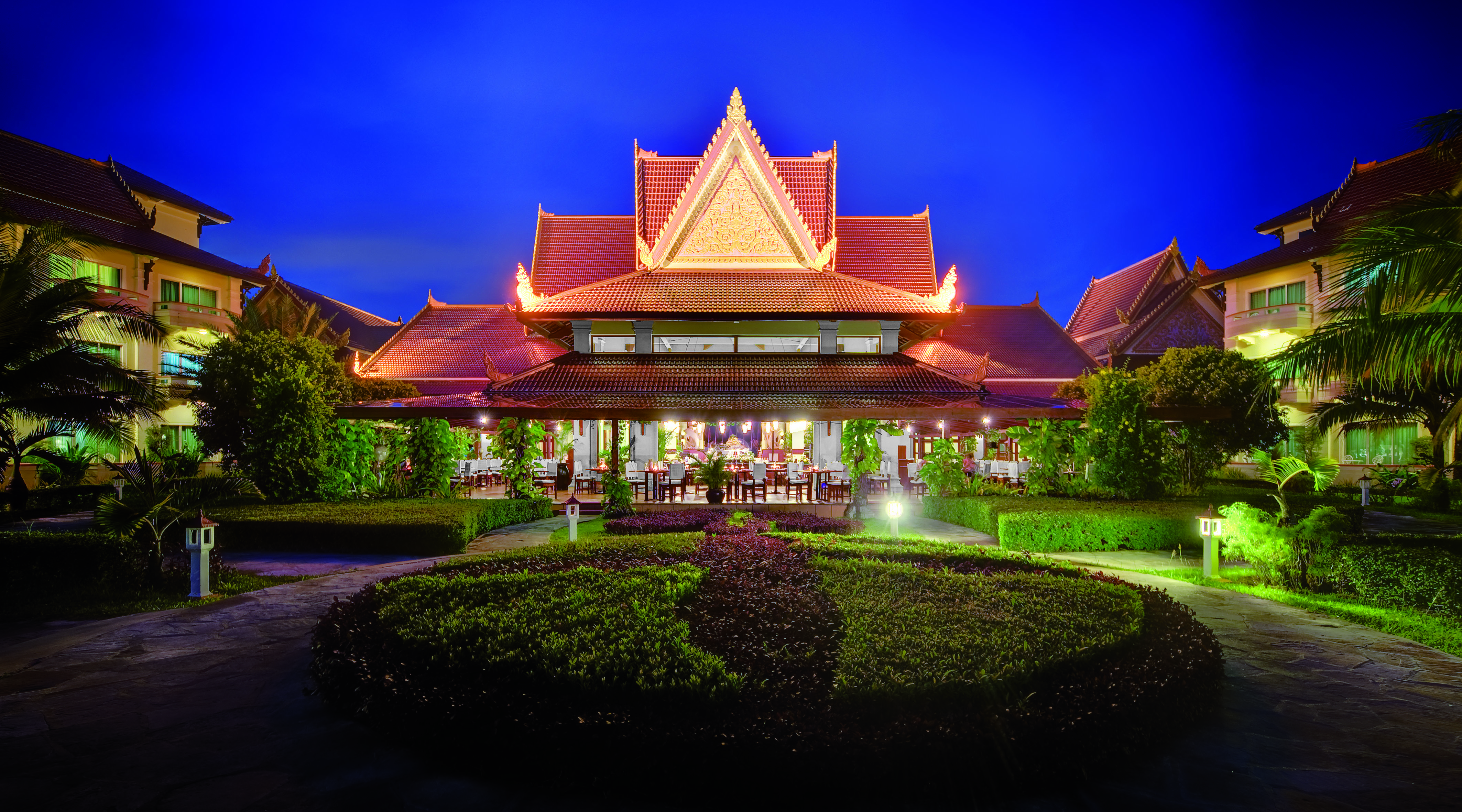 Sihanoukville on the Gulf of Thailand four hours from capital Phnom Penh (there's also a local airport) is famed for its beautiful beaches and warm waters, and luxury resorts have been cropping up to take full advantage. This is one of Cambodia's best, with 555 rooms, suites and villas, many offering spectacular views of white sand and sparkling sea. On premises are four restaurants, five bars, and two pools, along with a fine spa, fitness center, and casino.
Palm Beach Bungalow Resort

In offshore in the same province of Sihanoukville, the island of Koh Rong is also becoming a beach-holiday hotspot, and this charming little collection of 38 rustic but comfy wooden bungalows on the beach offers a more barefoot feel - and much more affordable rates than the luxury properties above. There are ten distinct types, including bungalows for two, family bungalows with two bedrooms, bungalows for groups, a honeymoon "treehouse" suite, and more. There's a restaurant as well as two bars, along with activities like snorkeling, kayaking, kite-surfing, and horseback riding.



Koh Kong White Sand Beach Resort

A bit farther up the coast from Koh Rong, Cambodia's biggest island, Koh Kong, also attracts plenty of beach-seekers, and this six-year-old resort is a another lovely collection of bungalows - again, on the rustic side but comfy, and certainly budget friendly - with gorgeous views on a palmy, picture-postcard strand. The service is good and there's a restaurant with good food and ample portions, as well as a beachfront pub and massage spa.  Activities besides beaching include jungle trekking and kayak tours.



Sofitel Angkor Phokeethra Golf & Spa Resort


Heading away from the beach, of course Cambodia's single most popular draw is the jawdropping ancient Khmer site Angkor Wat and its nearby town Siem Reap. And ten minutes from Angkor you'll find one of the country's very best resorts, with 238 rooms and suites designed with Indochinese-inflected French colonial elegance and set amid lush gardens and lake. Besides its much vaunted golf course and luxurious spa, the Sofitel boasts Cambodia's largest free-form pool.



Another outstanding five-star property, right in the heart of Siem Reap, this handsome 188-room property features helpful, friendly staff as well as a beautiful pool, spa, and fitness center. Among its three dining option is a fantastic Cambodian restaurant with traditional Khmer folkloric floor show. And the resort's very central location provides convenient access to local attractions such as the Angkor Night Market and other shopping, the lively downtown "pub street," and more.
As you can see, if you want to splurge, these days there are many luxurious resorts in Vietnam and Cambodia as well as medium-range options. For more information on some of these destinations,have a look at 10 Best Beaches in Vietnam for Honeymoons. And to check out great deals on Vietnam and Cambodia packages, click here.