Ninh Binh is famous for its long history and the places recognized as world cultural heritages. Therefore, this land is always the choices in each tourists journey, besides the beautiful natural scenery the famous rural food is the feature that makes people think of Ninh Binh.
If you have trouble finding places to eat, book a Ninh Binh tour through Beetrip.net, the cost is not high and you will have a full trip.
Yen Mac Fermented Pork Roll
Nem Chua Yen Mac - Yen Mac Fermented Pork Roll: is one of foods or gifts which you should try and bring to your home. It has a light pink color and a sour, sweet, salty, and spicy smell and taste. " Nem chua Yen Mac " used to be a favourite food of Vietnamese King. It made from rustic ingredients, namely ground pork thigh, minced pork skin, chilli, garlic, fish sauce, sugar, salt.
Those are mixed pressed and then naturally fermented by tender fig or guava leaves, it has very characteristic sour, acquired sweet, garlicky and salty taste with pork rinds.
While the fig leaf cover can be eaten with "Nem Chua", creating a special acrid taste the banana leaf cover makes its flavor more subtle and attractive. 
Dê tái chanh - undercooked goat meat with lime: it is not coincident when goat meat is chosen as one special dish of so many places in the country and there is no exception when it becomes the main ingredient in the widely - known undercooked goat meat with lime of Ninh Binh.
Making a dish of goat meat is not extremely hard but how to cook it well is a different story. The meat must be rightly stewed with citronella until it is fairly undercooked. The meat will then be sliced and citronella after being stewed will be cut to pieces with ginger, chilli, sesame and lime leaves to make spices for the meat.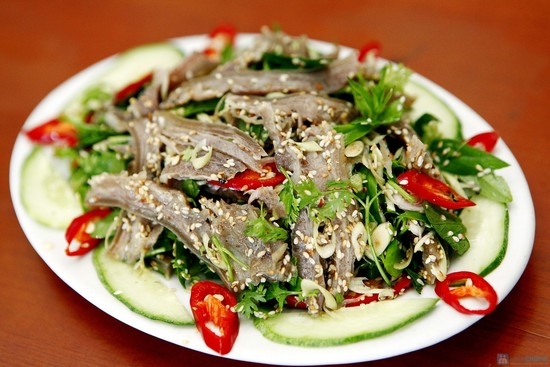 Bún Mộc - rice noodle with '' Moc '' soup: If you visit Phat Diem Cathedral in Ninh Binh , do not miss to try        " Bun Moc"which is made from pork, mushroom, green onion, lemon grass, and chilli. With the well-cooking skills of locals here, it has an amazing flavor, you will not have second chance to try this dish everywhere else beside eating here.
Rượu Cần Nho Quan - Nho Quan wine: is one of the special cuisines in Ninh Binh. You can come there to try or also buy for your friends, family and gather together to enjoy it, you will have unforgettable moments,it is inside a jar, the size of the jar will depend on your hobby.
To get a good bottle of wine, it must undergo several stages: from selecting ingredient to the processing and especially to calculate the appropriate time so that just in time. The main ingredient depends on the region, it may be corn, rice or cassava, but the best is sticky rice. To make wine is made from sticky rice. 
The Sticky rice must be chosen new rice, the alcohol will be delicious. Alcohol yeast are made from the peel of trees mixed with chilli powder, ginger powder, rice powder and water, this combination is cut into smaller pieces and dried in 10-15 days, then crushed and mixed with the dried mixture of cooked rice and rice hulls, which is kept in the vase in 1-2 days, then dried banana tree's leaves are covered on the surface of the mixture in 1 month before the wine is ready to drink. The longer the wine is kept, the better taste it has; each material has its own taste. 
Xôi trứng kiến Nho Quang - Nho Quang ant egg sticky rice: if Kim Son is famous for eel spring roll and Hoa Lu is famous for goat meat then Nho Quang has made its own name for the illustrious ant egg sticky rice.
Sticky rice maybe a common dish in VietNam which you can easily find in everywhere in street and ant egg sticky rice is definitely an unforgettable dish of Ninh Binh and it also very nutritious. This explains why ant egg sticky rice is so unique and is hunted by many visitors both foreign and local in Ninh Binh.
Ốc núi - Mountain snails:  Ninh Binh mountain snails are rare because they just live in limestones caves, grottos or some holes so it is hard to find them. In raining season, mountain snails will move out to find food or produce. When it starts raining, it is the season to catch snails of locals. In the morning, snails move out to eat leaves so it is the good time for catching.

It is different from other snails because of their food. Snails eat the natural plants include some medicinal plants on the limestone mountain. So normally before cooking snail, you always put them deeply in water for hours to clean them, you just clean them for short time to keep their medical body.

 It is cooked in a lot of dishes such as steamed with ginger, grilled with chilli and lemongrass or with tamarind or garlic , boiled with lemongrass and ginger, and so on. Their meat is crispy, sweet, tasty. You should eat whole their body, do not throw its stomach, eat them slowly to enjoy their flavour. 
You can eat them with sour and spicy fish sauce to raise their taste. It is not hard to find a place where sell it in Ninh Binh. You can go to markets in Tam Diep, Yen Mo. However, you just can buy if after raining or going to some restaurants in Ninh Binh to order some mountain snails dishes and try them when they are still hot.
Source: 
https://hoianexpress.blogspot.com";}" data-sheets-userformat="{"2":292992,"10":2,"14":[null,2,0],"15":"Times New Roman","16":11,"17":1,"21":1}">https://hoianexpress.blogspot.com