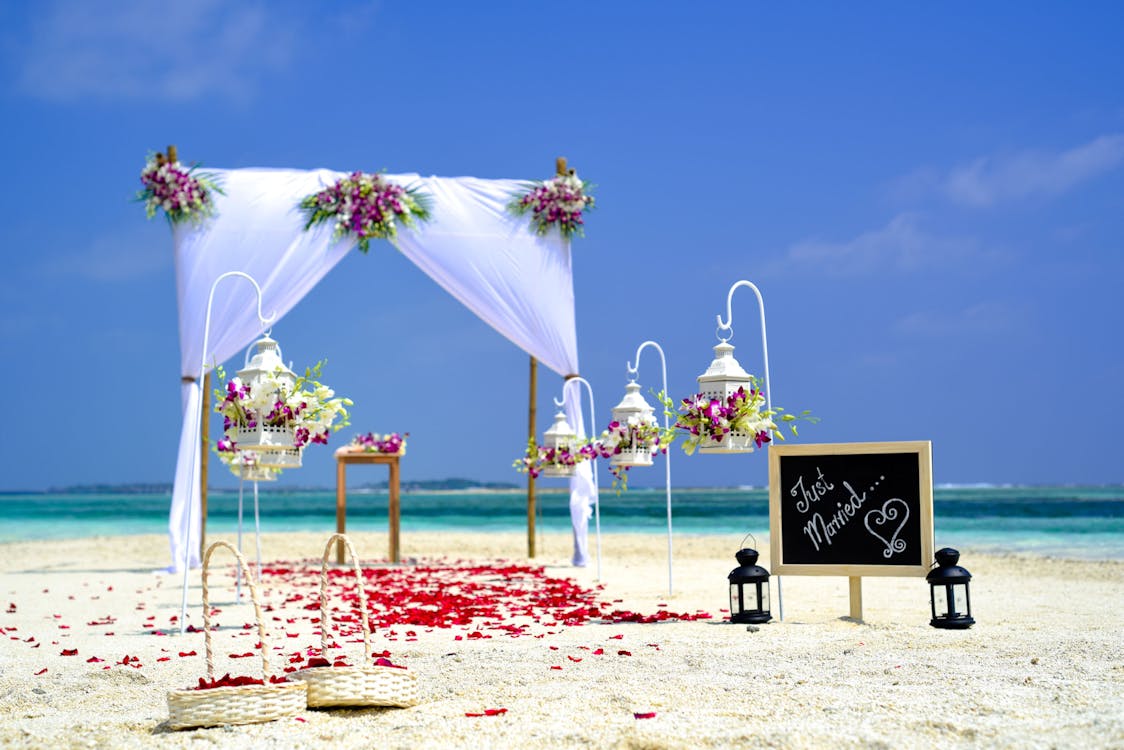 Wedding season is here! And after a while, all the Instagram and Pinterest pictures of this season's wedding colors and trendy blooms seem to blur together. If you're longing for a unique and romantic wedding, why not opt for a destination wedding? There are plenty of wonderful locations all over the world to fit every couple's tastes and styles. Check out these top destinations and start dreaming. 

Hawaii

The islands of Oahu and Maui are particular Hawaiian favorites for couples - a bit of heaven on earth: picturesque white sand beaches, stunning sunsets over the ocean, and let's not forget the beautiful Hawaiian culture. You can have a small, elegant wedding on the beach, or enjoy a luau party, complete with leis and a traditional coal-cooked pig. The best part of this is that the honeymoon can start right away—no need to travel for hours to get to the perfect relaxation destination!

 
St. Barths

St. Barths is one of the most beautiful islands in the Caribbean. It's clean, friendly, and absolutely stunning. Celebrities love this place, so you really can't go wrong! It tends to be a bit pricey, which could make a destination wedding here impossible for some budgets, or for others it could provide the perfect excuse to splurge. To spice up the honeymoon, you can island-hop to busy St. Martin, serene Anguilla, or beautiful Saba. If St. Barth's is above your wedding budget, you could opt to get married on one of the nearby islands for an equally beautiful ceremony.
Bahamas

The Bahamas are a perfect wonderland of beauty. From the crystal-clear water to the colorful wildlife, to the night scene, there is nowhere quite like this strand of delightful Caribbean islands. A wedding on the beach in the Bahamas is about as romantic as you can get. Plus, for an international destination wedding, it's fairly close to home for U.S. citizens and won't break the budget. You also have dozens upon dozens of islands to choose from, so you can pick a popular destination for your ceremony or find a tiny islet for a wedding as unique as it gets.
Flagstaff, Arizona

Get your kicks on Route 66! Flagstaff may be a small mountain town, but it has no lack of gorgeous wedding venues. A simple ceremony in the woods is a local favorite. However, you can also get hitched in a beautiful old church, beneath quaking aspens, or in a western-themed venue. If you want to be really creative, you can get married in winter and enjoy a honeymoon on the slopes at Snow Bowl.
 
Cancun

Arguably the most beautiful wedding location in Mexico, Cancun is a desirable wedding location for couples around the world. You can get married at a romantic all-inclusive resort and spend your entire honeymoon on the beach with one simple package—all the fun without the hassle. Or, you can coordinate your own wedding and build your own honeymoon for a special personalized experience.
 
Italy

Imagine a wedding in the verdant hills of Italy. A gentle breeze plays with the bride's veil, and all around the party, the scent of the vineyard fills the air. Waiting at the reception tables are bottles of fine local wine and the best of Italian cuisine. In the distance, a castle is visible on the horizon. Can you imagine a more beautiful place for a fairytale wedding? Make all your princess dreams come true with a European wedding sparing no romance. A honeymoon discovering the ruins of Rome and the charms of the Italian countryside is the perfect end to a perfect fairytale.
 
Zanzibar

Once an independent island nation in the Indian Ocean, Zanzibar is now a part of Tanzania in East Africa. The island is famous for its beautiful beaches, spice tours, and colorful culture. Zanzibar is also a fantastic place to honeymoon, with its lovely resorts and magical tours on the ocean. You'll love discovering the people and the culture of Africa! This is a fun alternative to the typical African safari and is unlike anything you'll find anywhere else in the world.
 
Paris and Beyond

The City of Love, world-class chefs, European luxury! For the classy and the luxe-lovers, France is the ideal destination for a wedding. You can get married in Paris in the shadow of the Eiffel Tower, in a centuries-old church in a lesser-known town, or in the picturesque French countryside.