Here's a question for you: In which city would you find the USA's largest arts district? New York City? Los Angeles? Chicago? Perhaps even Washington DC? The answer, you might be surprised to hear, is the third-largest city in Texas: Dallas. With no fewer than 19 blocks of museums, galleries, and exhibitions, the Dallas Arts District is a must for those with art in their hearts – yet another great reason why we're excited to announce our first-ever direct flight to "the Big D" from Spain.
Founded as a settlement in 1841, by the 1870's Dallas' core industries had become farming and ranching, an introduction of a railroad in 1872 catalysed the local economy by making its cotton and cattle more accessible to the rest of the country. Some 70 years later, in the 1940's, a burgeoning petroleum industry helped Texans take the economical bull by the horns again, and drilling made the city synonymous with the "Big Oil". The longrunning evening-soap-opera phenomenon Dallas (1978-1991) opened a window into the Big Oil days, centred around the wealthy, perpetually at-war Ewing family, which made their mint off petroleum as well as ranching (fans can pay homage to the show and visit the set at Southfork Ranch).
These days the economy is far more diverse (defence, financial, information technology, telecommunications, and transportation sectors), and no fewer than 22 Fortune 500 companies (the fourth highest number in the United States) have headquarters within the Dallas/Fort Worth metro area (population 7.6 million).
Sitting along the banks of the Trinity River in the north of the state, Dallas is also a major transportation hub with one of the busiest airports in the world, DFW (last year it was number four), four interstate highways crisscrossing the metro area, and rail connections to the Pacific and Atlantic coasts as well as the north of the USA.
Plenty of visitors come to watch one of Dallas' six major sports teams: NBA basketball's Dallas Mavericks (men), the Dallas Wings (women); the Texas Rangers Major-League Baseball team; the Dallas Stars of hockey; and increasingly the 26-year-old FC Dallas football (what Americans call soccer) side. Far and away, though, the biggest deal in town sportswise is the Dallas Cowboys, the American NFL football powerhouse which is one of the world's most valuable sports teams, and winner of five Super Bowls (though the last one was in 1995).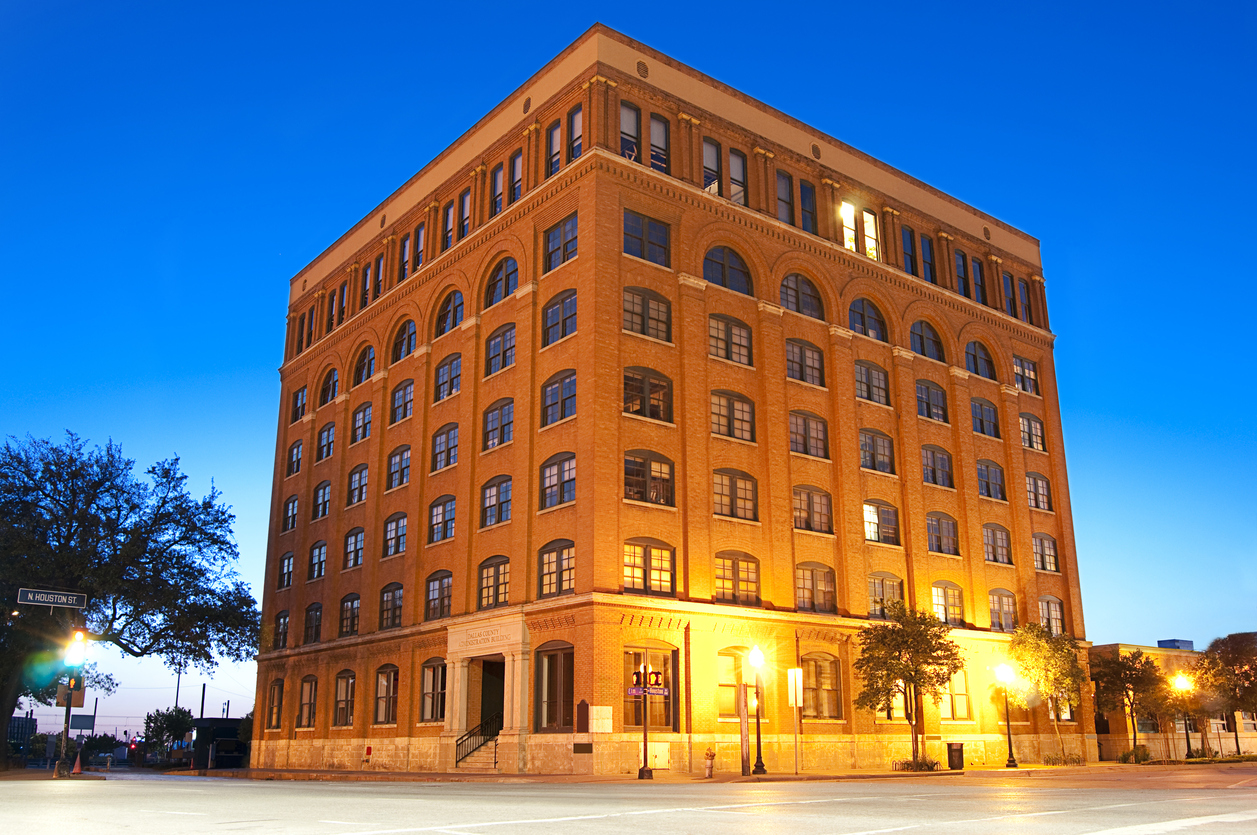 History in the Making

Though of course most of Dallas is of relatively recent vintage (roughly mid-20th century onwards), there are several spots where you can connect with its early days, such as the Dallas Heritage Village, a living-history museum of 38 mostly 19th-century structures (from pioneer homes to graceful Victorians, complete with docents in period dress) moved from north Texas to a woodsy eight hectares (20 acres) south of downtown. Over in the city's West End Historical District, you can get more historical insight at the Old Red Museum, occupying the imposing, red-brick courthouse built in 1892 with interactive exibits and a building tour.
Right near Old Red, and moving forward into the 20th century, one of its seminal events - the 1962 assassination of President John F. Kennedy alongside the tiny park known as Dealey Plaza - is exhaustively chronicled by the nearby Sixth Floor Museum in the nearby Texas School Book Depository building, from which assassin Lee Harvey Oswald fired the fatal shots. Connecting 1960's history and culture to the present, its multi-media exhibits encourage cross-generation communication, while promoting curiosity, knowledge and understanding. You can even stand at the very same corner from which Oswald took aim.



More Dallas Draws

An iconic landmark of the Dallas skyline built in 1978, the GeO-Deck of the 50-storey Reunion Tower (top, at left) offers panoramic 360-degree views; interactive videos and high-definition zoom cameras; a revolving café; and packages such as the romance-oriented "Love is in the Air", which includes a digital picture, two glasses of bubbly (you get to keep the glasses) and "VIP elevator service".
Among other family-friendly stuff to do, there's the Dallas World Aquarium, with hundreds of species large and small (including a glass tunnel which takes you under sharks and other majestic sea creatures) and there are land-oriented exhibits too, such as a walk-through recreation of a South American rainforest.
Dallas also has a fine, 43ha (106-ac.) zoo south of downtown, with more than 2,000 animals including rare and endangered species. Sections include Wilds of Africa, Penguin Cove, Crocodile Isle, and a tiger habitat.
Parks abound as well. One of special note is Klyde Warren Park, a pleasant 2.1ha (just over five acres) with a promenade and fountain plaza, a performance pavilion, a children's park and dog run; a games area, several restaurants; and a performance pavilion. And for a beautiful, natural-feeling oasis, check out much larger (507ha/1,254 acres) White Rock Lake Park, a beautiful natural oasis surrounding the eponymous lake, with hundreds of animal species; more than nine miles (15km) of hiking and biking trails; picnic areas; and another of the Big D's top tens - the Dallas Arboretum and Botanical Gardens.
 
Hark, the Arts!

And then of course there's the Dallas Arts District we mentioned at the top. Located downtown east of the West End Historic District, these roughly 20 square blocks are packed with lively streets and creative venues of every imaginable kind – along, of course with plenty of restaurants and bars (and actually you'll find the above mentioned Klyde Warren Park here, too).
The district is also home to several major culture institutions, topping the list of which is the nearly century-old Dallas Museum of Art, with 24,000 masterpieces and objects from all over the world reaching back 5,000 years. Texas and other U.S. artists are well represented, of course, and some of the DMA's other marquis names include El Greco, Monet, Picasso, and Van Gogh. Still in an arty mood? Check out the next-door Nasher Sculpture Center and the nearby Crow Museum of Asian Art. Or if it's science that floats your boat, check out the district's Perot Museum of Nature and Science (above).



Ready…Set…Shop!

As the local tourism people put it, "shopping is a sport in Dallas"! This is after all the home turf of Nieman Marcus, one of the USA's premier luxury department store chains. To give your credit cards a Texas-size workout, there are several premier shopping centres: NorthPark Center with more than 200 retailers including luxury boutiques and trend-setting brands, a film multiplex, and a food court and restaurants for most tastes and budgets; the elegant and venerable Highland Park Village, established in 1931 and widely regarded as the USA's first true shopping centre; and the Galleria Dallas with more than a hundred designer stores and even an ice skating rink.
The city also boasts several interesting shopping neighbourhoods. An especially good example is the Design District northwest of downtown, which features a plethora of antiques shops, art galleries, designer shops, and interior designers, interspersed with upmarket restaurants and breweries. Antiques as well as vintage fashion also figure heavily among the 80 shops in the restored old brick buildings of the West End Historic District, along with other boutiques – oh and of course Wild Bill's, where you'll want to get fitted for your souvenir Stetson! Knox-Henderson, the West Village, Greenville Avenue…there are plenty of other places happy to administer retail therapy to Dallas visitors, too.
 
Worthy Fort Worth

Speaking of Stetsons, Dallas' sister city – just a half hour's drive west – is a big, dynamic city in its own right, and one that still embraces its cowboy heritage as "where the West begins" – dating back to Fort Worth's 19th-century development into a centre of the longhorn cattle trade. These days, visitors and locals alike stampede to the Stockyards where that trade used to be carried out and is now home to shops, restaurants, hotels, and bars (including Billy Bob's Texas, which bills itself as "the world's largest honky tonk"). It also hosts rodeos at the Cowtown Colosseum, mini cattle drives, Pawnee Bill's Wild West Show, the Stockyards Museum, and the Texas Cowboy Hall of Fame. And finally, you can also take a guided walking tour.
And yet, for all the rootin' tootin' shenanigans, Cowtown definitely also has its own high posh and cultural side, including distinguished museums such as the Kimbell Art Museum, the Modern Art Museum of Fort Worth, the Amon Carter Museum of American Art, and the Sid Richardson Museum of western U.S. art.
For more info, check out VisitDallas.com and FortWorth.com – then book a flight to DFW, pardner!