The Capitol Hotel Tokyu, the five-star Tokyo flagship property of Tokyu Hotel Corporation, is now offering unique, authentic Japanese cultural experiences. Two exclusive offers include off-site luxury dining with geishas and genuine Shinto ceremonies at the adjacent Hie Shrine.

Dining with Geishas


The reknowned, kimono-clad hostesses in whiteface makeup are still a part of society in some Japanese cities, adept in the arts of playing traditional instruments as well as dancing/singing for and conversing with clients. Much of this takes place in restaurants like Akasaka Asada, with more than 300 years of history in the Akasaka business district (once known as Tokyo's premier restaurant zone) not far from on the fringes of the Nagatacho district where the hotel itself is also located. The restaurant's cuisine, tableware, traditional music, sukiya-style architecture, décor, and Japanese gardens all contribute to its historic ambiance, and it's here that hotel guests are hosted one on one by a professional geishas in private rooms.  It's a very rare opportunity for guests to experience this traditional high-class entertainment.
The experience features traditional geisha performances with singing, dancing, shamisen (Japanese guitar) playing, and conversation (offered in English as well as Japanese).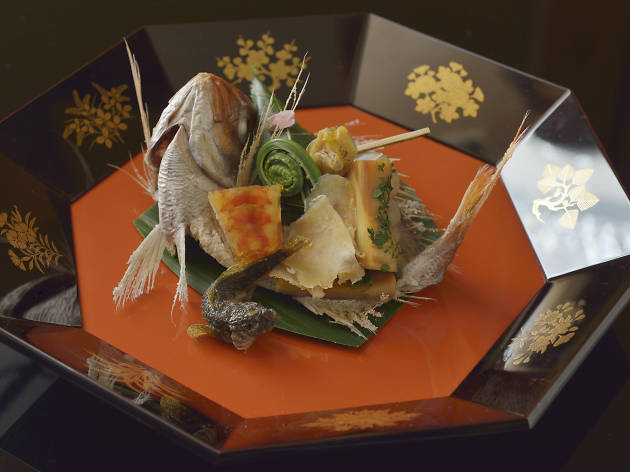 At the same time, guests dine on a multi-course kaiseki dinner, Japan's haute cuisine. The two-hour experience includes entertainment, dinner and alcoholic beverages.
Shinto Ceremony Experience

Just a two-minute walk from the hotel and built in 1659 under the reign of Shogun Ietsuna Tokugawa (though the current structure was rebuilt in 1958 after the original was destroyed during the bombings of World War II), Hie Shrine is one of Japan's most distinguished temples of Shinto, Japan's native religion. Shinto sees deities in all natural things and whose worship is deeply ingrained into the everyday life of many in this country.

Its ceremonies may include ritual purification, meditation and prayer or even just a traditional sword dance to entertain the deities. They are typically performed at the behest of worshipers experiencing particularly important life events, such as a marriage, childbirth or when wishing for good fortune in business ventures. The hotel's concierge can arrange select private ceremonies for a fee, allowing them to enter the typically off-limits shrine building to experience these atmospheric rituals and get further insight into Japanese culture.




About the Capitol Hotel Tokyu

The current incarnation of the historic Capitol Hotel Tokyu opened in October 2010, offering a refined "modern Japanese" ambiance. It features the best qualities of a traditional ryokan with the modern conveniences of a Western hotel. Designed by world-renowned architect Kengo Kuma, who is also the architect behind the new National Stadium in Tokyo for the upcoming 2021 Olympic and Paralympic Games, the hotel offers 251 spacious guest rooms (including 13 suites). Each guest room combines both shoji paper screens and sliding partitions with numerous panoramic cityscape views or spectacular views of the gardens from the Sanno Groves at Hie Shrine. The hotel also provides a wide variety of amenities for its guests to enjoy including a spa, swimming pool, and fitness center (which from the 14th and 15th floors affords expansive views out over the city). Of special note are two fine dining restaurants including Suiren, featuring Japanese cuisine such as teppanyaki, sushi and kaiseki, and Star Hill, serving Chinese cuisine in a stylish and elegant setting. A third venue, Origami, serves up all day dining; the Capitol Bar is a place to relax, have a cocktail, and even enhoy a cigar; and a pastry shop offers a wide variety of desserts, pastries, and breads. Finally, A full service spa offers a wide range of body and facial treatments, many incorporating traditional Oriental medicine concepts, as well as access to a therapeutic salt bath and low-temperature mist sauna.