This blog talks about Iberia's hometown all the time, of course. Spain's capital is packed with history, culture, and amazing dining - plus nightlife and events that seem to only get better and more exciting each year! But if you're a first-time visitor there are some places and experiences you shouldn't miss in order to get a real initial taste of Madrid. My top ten are: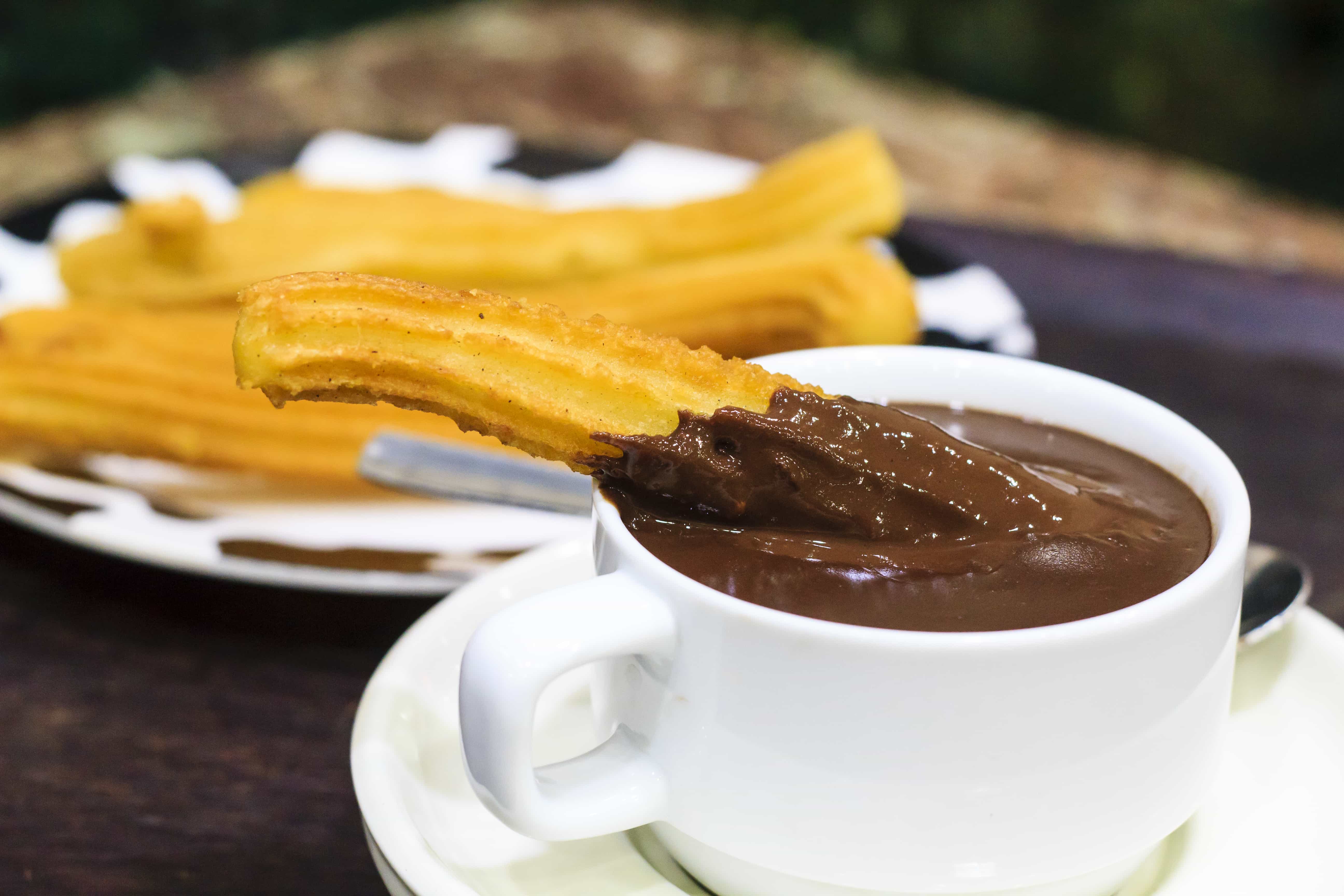 Chocolate and Churros
Myriad variations on fried dough are found all over the world, of course. But Spain's special brand - the looping, grooved sticks called churros - is among the most distinctive. And you eat them - plain or dusted with sugar - dipped in cups of lovely, extra-thick hot chocolate (often for breakfast, but many enjoy them throughout the day/night). The classic spot for this experience is downtown's Chocolatería San Ginés, its elegant Belle-Époque flavor little changed since it was founded in 1894.
Madrid Nightlife
Ever since the movida (movement) of the post-Franco 1980s turned Madrid into one of the nightlife capitals of the world, the bar, club, café, and performance scene has been creatively cranking on all cylinders and for all tastes. Whether it's at laid-back cocktail lounges or funky cervecerías (beer pubs); big, boom-boom discos; the many theatres both alternative to mainstream; innumerable live-music venues; or tablaos showcasing some of the country's best flamenco, you'll be able to stay out literally all night if you like. The original movida got moving in Malasaña, several blocks north of Gran Vía, Madrid's Broadway, and while that neighborhood is still extremely lively, with mostly small venues, there are many others. Next-door Chueca rocks as well, especially with the gay community. And on the south side of Gran Vía, there are a host of spots concentrated around the Puerta del Sol (see below), the Plaza de Santa Ana, and the Huertas and Lavapiés neighborhoods (this last especially with perhaps the city's funkiest, most international vibe). Then over east in the posh Salamanca district, the venues tend to be correspondingly low-key and upmarket. But a good time guaranteed no matter where you end up!
National Archaeology Museum
There are dozens of marvelous museums in Madrid, of course. But one of my all time favorites is the Museo Nacional de Arqueología, housed in the same handsome 19th-century neoclassical building on downtown's Calle Serrano. It displays a wealth of world treasures, but the ones I keep going back to see are unique to Spain, such as a replica of the spectacular Altamira Caves prehistoric art and the iconic, dramatic Iberian (pre-Roman) bust known as the Lady of Elche (above).
Oriente Palace
This over-the-top Baroque pile was built in the mid-18th century and first occupied by the court of Carlos III; the last monarch to reside here full time was Alfonso XIII, who ruled 1886-1931; the current royal family uses the more modest Zarzuela Palace, and the Palacio de Oriente is generally reserved for special state functions. Open for both guided and self-guided tours, its 1½-million-square-foot (135,000-sq.-meter) interior is packed with precious metals, woods, and furnishings, and artwork from masters including Caravaggio, Francisco de Goya, Giovanni Battista Tiepolo, and Diego Velázquez. You'll also find amazing collections of vintage weapons, watches, porcelain, silverware, and musical instruments (including the world's only complete Stradivarius string quartet).
One of the city's two main downtown squares (the other being Puerta del Sol, below) forms an impressive rectangle indeed, 423 by 308 ft. (129 x 94 m) in size, enclosed by handsome buildings whose ground floors house bars, restaurants, and a handful of shops. The this illustrious space was built in 1617-1619 and over the centuries since has witnessed and hosted all manner of activities – markets, bullfights and other spectacles, competitions, public executions, and of course lets not forget charming burnings at the stake of "heretics", courtesy of the Spanish Inquisition. Its focal point is an equestrian statue of King Philip III (designed by 17th-century Flemish-Italian artist Giambologna), and various events take place here throughout the year - most notably Madrid's main annual Christmas market. But all year round, the Plaza Mayor's perimeter is covered with covered tables/chairs that make absolutely lovely places to linger a bit, day or night, over coffee, a drink, or a bite.
A classic evergreen of which I absolutely never tire, one of the world's most prestigious art museums displays icons by some of Spain's greatest artists, such as the amazing Las Meninas by Diego Velázquez and many by Francisco Goya, such as The Third of May and The Naked Maja. There are also plenty of other European masters like Tintoretto, Rubens, and Fra Angelico - and I invariably end up spending a bunch of time in front of the Flemish painter Hieronymous Bosch's delightfully creepy Garden of Earthly Delights.
Puerta del Sol
The Times Square or Picadilly Circus of Madrid was once one of the gates of the 15th-century walls (its name, "Gate of the Sun", comes from the rising sun depicted on the entryway, as the gate faced east), and evolved into a busy gathering place over the centuries since. Its focal point is the old post office, which served as the headquarters of the hated interior/security ministry during the Franco dictatorship and is now the seat of the government of the Autonomous Community of Madrid (which also includes quite a bit of territory surrounding the capital). Just in front of it is the Kilometer Zero plaque, marking the spot from which Spain's radial roads network emanates. Another notable landmark is the statue of El Oso y el Madroño - the bear and the strawberry tree, the city's heraldic symbol (the bear has been part of Madrid's coat of arms since at least 1212, and the tree was added in 1222, symbolizing the region's forests and fields). The Puerta del Sol is usually crowded with both locals and visitors hanging out and watching the many buskers plying their trade, as well as coming and going from the huge Metro station here - the largest hub in Madrid's Underground. And on New Year's Eve thousands assemble here for the festive countdown to midnight!
For both cool bargains and local colour, it doesn't get much better or more classic in Spain's capital than Sunday morning ambling around its world-famous, nearly 300-year-old Rastro, the bustling open-air flea market that each week sprawls along various streets of Madrid's central Embajadores neighborhood, between Calle Embajadores and Ronda de Toledo. Whether you're hunting for fine antiques and collector's items, authentic handicrafts, vintage ware, or simply awesome photo ops, the Rastro can offer hours of entertainment (even literally so, as live music performances are often part of the scene). With up to 3,500 stalls to browse, the Rastro runs every Sunday from 9 am to 3 pm, but the best merchandise naturally tends to go to the early birds. And once folks are done rummaging for the day, it's customary to wind up the outing with a few cañas (draught beers) and tapas in nearby bars that are some of the city's most typical, old-timey spots.
Opened in 1992 and named after the country's then queen, this is the place for taking in some amazing work from the 20th and 21st century right up to the latest and greatest. Standouts here include Diane Arbus, Francis Bacon, Ross Bleckner, Georges Braque, and Alexander Calder, but obviously here some of Spain's top artists are especially where it's at, with the likes of Miquel Barceló, Eduardo Chillida, Salvador Dalí, Julio González, Juan Gris, Joan Miró, and Pablo Picasso, whose incomparably searing Guernica (above) is by far the collection's most famous piece.
The Parque del Buen Retiro ("Good Getaway Park") is 292 acres (118 hectares) in the centre of Madrid, originating in the 1630s as a royal hunting reserve and playground, gifted by an obsequious aristocrat to King Phillip IV. It became a public park in 1868, and remains a popular, leafy escape for madrileños. Its focal point, the Great Pond, was created to provide water to the park's irrigation system. With an average depth of six feet (1.8m) and a capacity of more than de 11 million gallons (50,000 cubic meters), back in the day it used to host small-scale recreations of naval battles; today you'll still see boats, but much smaller still: dinghies, a popular pastime most of the year. At the back of the pond is the Monument to Alfonso XII, with a semi circular colonnade and crowned by an equestrian statue of Spain's king of the 1870s and 1880s. Apart from this, highlights include myriad wooded areas; gardens (especially a lovely rose garden), palazzos (including the Crystal Palace and Velázquez Palace, both hosting temporary art exhibitions); a fine restaurant; and quite a bit of statuary - my favourite being the Fountain of the Fallen Angel - said to be the world's only public monument depicting Lucifer. And by the way, it turns out this bit of business happens to be 666 meters above sea level. Spooky… ?
More info in English: EsMadrid.com.