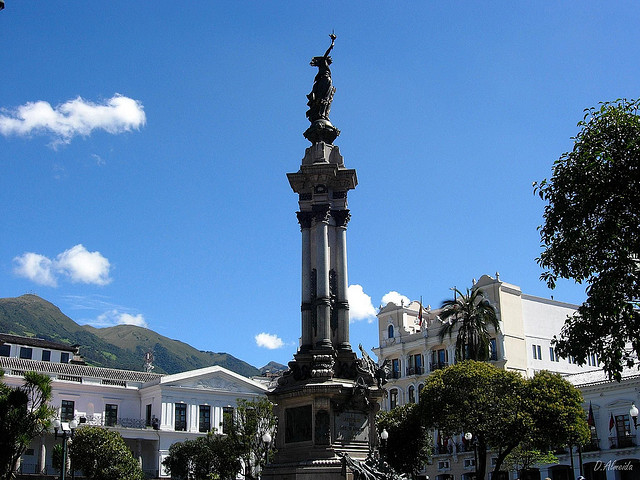 by Cristóbal Ramírez

The colouration of its buildings contrasts strikingly with the green hills surrounding them, and whichever direction your feet take you in the historic centre of Ecuador's high Andean capitalQuito, you're surrounded by history. In fact, it's all enough to leave you slack-jawed at the richness of architecture to which the locals barely spare a second glance. It's no wonder this was declared a UNESCO World Heritage Site, and early on, back in 1978. 
This, the largest historic centre in the Americas, dates from the city's founding in 1543, and centres on the Plaza Grande (aka Plaza de la Independencia), where the country's top institutions of both church and state are headquartered, including the presidential palace, also known as Carodelet Palace, the city hall, and the Metropolitan Cathedral.
Other Old Town highlights include the neoclassical Sucre Theatre, the Santo Domingo Monastery, and the Concepción Convent. And among it all the locals wander – children scamper, elderly gents play traditional instruments, young lovers stroll. In fact it all does feels rather romantic, a colonial mix of with Castilian and Andalusian flavour that seems to invite a kiss, an embrace – or at the very least, a selfie!
But enough sweet nothings, it's time to pull out from a close-up to a bird's-eye view. Heading up a hill called El Panecillo crowned by a statue of a madonna, we can get a marvelous panorama amid bucolic surroundings.  If that whets your appetite for more nature, the city's botanical garden in La Carolina Park is a marvelous showcase of a country that's the richest in the world when it comes to species of flora. Other parks include the large, triangular La Alameda, in the city's central zone, where besides hanging out on the lawns you can have a boat ride on the lagoon or visit  South America's first astronomical observatory; and leafy El Ejido northeast of that, whose north end on weekend becomes Quito's biggest handicrafts market.
Or you could head even a little farther afield to the green slopes of the volcanoes near the city,Pichincha and Atacaza. To the former there's a cablecar, the TelefériQo, which takes you up to the Cruz Loma lookout at 3,945 metres (12,943 feet) above sea level. Which reminds me: if you visit Quito, keep in mind that this is the world's highest-altitude official capital city (2,850 m/9,350 ft.) – which means visitors unused to this may be susceptible to soroche (altitude sickness); you can minimise the possibility by eating and drinking in moderation and not over-exerting yourself (take this seriously, or you could even find yourself in bed for a day or two).
Another slightly out-of-town attraction you shouldn't leave without seeing is La Mitad del Mundo ("Middle of the World"), a park and monument 23 km (14 miles) north of Quito that marks what this country is named for – the Equator (even though it turns out this particular setup was built 180 m (800 ft) away from where the actual ecuador turned out to be.
You'll love discovering Ecuadorian cuisine, as well, which like that of next-door Peru is complex and subtle, with notable dishes including locro (a hearty potato stew with cheese, beef, and beans) and a variant called yahuarlocro (with lamb blood, organs, and entrails, yum), fanesca (a fish soup with beans and lentils), and a local version of ceviche. A good place to sample it are the La Mariscal and Centro Norte neighbourhoods, which besides restaurants are full of pubs and dance spots which offer something for every taste, from salsa to electronica to Andean pop and rock.  Just another way in which Quito is neato.


Useful Facts
Quito has 2.7 million inhabitants.
The climate is moderately cool year-round, with temperatures ranging from a normal nighttime low of around 9º Celsius (48º Fahrenheit)  to daytime highs of 19-20º C (66-68ºF) ; the dry season is June through September.
Today Ecuador uses the U.S. dollar.
More information:

 

www.Quito.com.ec;  flights

 

from the UK,

 

from Spain. 

image | David Baggins