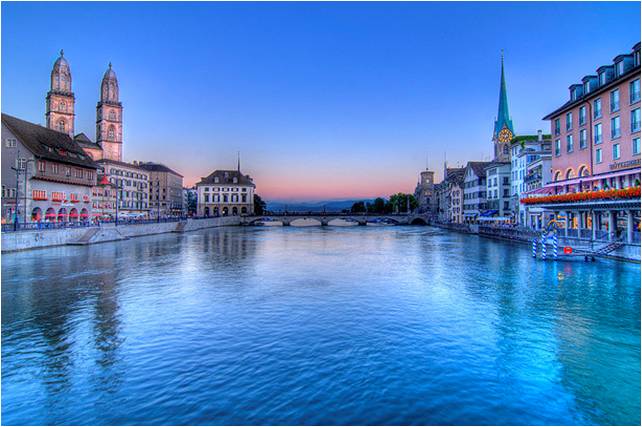 by Cristóbal Ramírez

Zurich, Switzerland has footpaths so tidy, cobblestones so perfect, a lake so clean, urban sounds so harmonious and subdued that it's almost enough to make urbanites used to other cities miss the comforting chaos they might expect. Indeed, more than one might be tempted to toss a bit of litter onto the ground to see what could happen. Please do refrain.


As for the rest of it, this burg that many tend to associate with little more than banks and insurance companies can actually be quite dynamic, fun and funloving, even offbeat and charming. Its "gnomes"  of finance and historically modest Protestant spirit are these days joined by a vibrant multicultural and gay scene along with Europe's largest annual street party. That's in addition, of course, to traditional annual festivities such as the Sechseläuten, celebrated today and every third Monday in April since the Middle Ages, which includes a parade of Zurich's 25 historic trade guilds but also such bits of whimsy as the Weggliwerfen, when the baker's guild pelts the population with rolls from a church tower, and of course the burning of a ginormous snowman effigy called the Böög (right).

But back to those famous Zurich icons, yes, it does seem that in parts of the centre there's a bank every two steps and chocolate shop every three (always a bit of a challenge for those of us trying to keep our girlish figures). Trains and trams are the two most popular means of transport, but the bicycle is getting more and more popular – and honestly, for visitors the area of the city most of interest is compact enough that you might be tempted to two-wheel it, as well; the Züri Rollt program gets you rolling for free with nothing more than a deposit of 20 Swiss francs.
Bahnhofstrasse is the city's main commercial high street. Clothing, jewelry, watches – all expensive, of course, and often extremely so. Strolling along here, you'll soon come across the Limmat River and the Fraumünster Church with its famous stained-glass windows. And it's in this vicinity that the little streets and the slopes start appearing. The top of the hill, where history says the city was founded,  makes a great place to sit for a while, contemplating the views out over the river.
Then it's time to head off to the nearby Grossmünster Cathedral. Originally Catholic, during the Reformation in the 16th century it became Protestant and has remained so ever since. In the Kunsthaus museum the collection goes back to the late Gothic, but naturally especially shines with more recent Swiss artists like Alberto Giacometti and subversive Zurich video artist Pipilotti Rist.
This museum provides a perfect segue to the hot and emerging artists of today, whose work you can discover in the galleries of the city's current hotbed of hip, Zurich West (left), also the neighbourhood for trendy boutiques and restaurants, with streets usually full. Then, too, there is the city's natural side, including the long, lovely lake whose northern tip begins at Zurich, and various parks such as the Arboretum,Belvoirpark, and not one but two botanical gardens.

The local cuisine, meanwhile, isn't just wurst (various kinds of tasty sausages) along with zürcher geschnetzeltes (veal and mushrooms in cream sauce) with rösti (hash browns), but also stems from the cultures that make up Switzerland itself – Germanic, Italian, and French – as well as, these days, international flavours from across the planet. These transformations have also had plenty of impact on the nightlife scene – giving it the country's highest density of nightspots, with the aforementioned Zurich West not surprisingly the club district par excellence. Party animals flock to spots like Supermarket for house, Hive for electro, Rote Fabrik for alternative…  All I can say is, Zurich may still be perfect in many ways, but truly, wherever he is now, that prim old Protestant Reformationist Huldrych Zwingli must not be amused 
Useful Facts
Zurich has 370,000 inhabitants.
The climate is relatively moderate. It rains fairly frequently, but the average annual temperature is 8.5º Celsius (47º Fahrenheit). In summer it can reach 35ºC (95ºF) and in winter drop as low as

 

-10ºC (14ºF),

 

with snow likely.
The currency is the Swiss franc.
More information:

 

www.Zuerich.com; flights from

 

Spain, from the

 

USA. 


images | PixelPlacebo, Guérin Nicolas, David Domingo 
from our blog Love2Fly