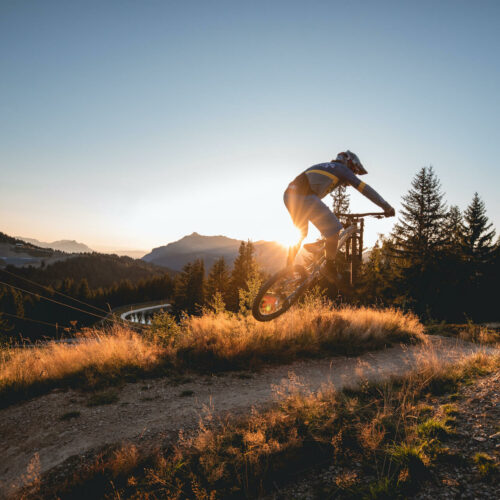 Located in southeastern France's Auvergne-Rhône-Alpes region - about an hour 15 minutes east of the closest air gateway, Geneva and a six-hour drive from Paris- this charming village of a bit over 1,200 permanent residents also happens to be one of Europe's top mountain-biking meccas. Les Gets boasts some 650 kilometers of marked tracks and 25 ski lifts also open all summer long to easily get from one place to another. Les Gets has also repeatedly hosted the UCI Mountain Bike World Cup (below), will do so again this July 2-4, and during the rest of the season advanced amateur mountain bikers can ride the world-cup downhill route, the giant cross country circuits, dirt and jump parks, the north shore, and much more.

But that doesn't mean Les Gets is a destination fit only for highly skilled mountain bikers, because it caters to all levels - and indeed, it's perfect for those who want to begin practicing this challenging sport. There are specially designated areas for learner, as well as a staff of expert bikers offering lessons and guided rides to teach you all the best moves and tricks.


The efficient system of lifts, operating all summer, will get bikers and their bikes to the top of the mountain easily, and trails are very well marked, color-coded, and graded so that it's easy to know the various degrees of difficulty before adventuring onto one. And all the facilities for bike hire, lessons, and guides are readily available at very affordable rates.
Furthermore, Les Gets is a family oriented resort, with a Kids' Zone, a Mini Park and plenty of family cross-country circuits to make sure everyone is having fun. There are so many routes to explore that getting to know all of them will take a good long time. Bikers can also go from village to village and mountain to mountain throughout the entire area, selecting the best trails for their skill and experience level.
 
The range of accommodation available is varied and offers options for all budgets, and many of them offer special storage units for mountain bikes and equipment. In short, Les Gets mountain biking - the world's foremost destination of its kind - is beautiful, exciting, and accessible, and it welcomes pros and beginners alike for the experience of a lifetime.