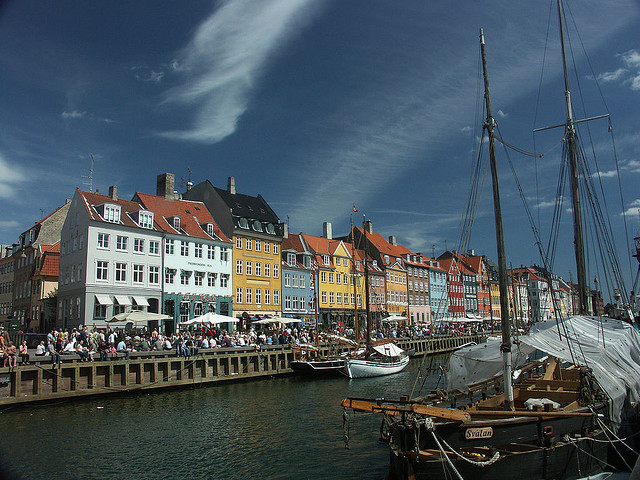 by Cristóbal Ramírez


Wonderful, wonderful Copenhagen, 
Friendly old girl of a town! 
'Neath her tavern light
On this merry night,
Let us clink and drink one down!
To wonderful, wonderful Copenhagen, 
Salty old queen of the sea!
Once I sailed away, 
But I'm home today,
Singing Copenhagen, wonderful, wonderful Copenhagen for me!


These charming lines from the 1950s Danny Kaye musical Hans Christian Anderson (listen below) still do capture the friendly, comfy vibe of one of Europe's most charming and laid-back capitals (pop. ). The locals not only live up to their reputation as the friendliest and most gregarious of Scandinavians, but they're also among the most environmentally conscious (though this is shared all over Scandinavia these days). Here in Denmark's capital you'll see locals constantly going about on bicycles, whether to work, shopping, or just riding around – even in the rain, snow, lightning, and even at night. (And with the notably thrifty Danes, it's also often a matter not just of the health of the planet but of the health of their wallets, pedaling after all being free.)

As a visitor, however, it's worth hitting the pavements on two feet, and Copenhagen's more than a manageable enough size for that. The ideal starting point is Rådhuspladsen (City Hall Square), the eponymous municipal edifice a characteristic red brick building with a clock tower; you can climb its 298 steps for a hodgepodge view over the city. That's the departure point for Stroget, Europe's longest pedestrian street, so get ready for lots of great shopping, cafés (why yes, they do serve danish!), and restaurants. And since this is Denmark, reknowned  for its industrial design, it's worth giving a thought to bringing home, say, a lamp or another example of local style. The local aesthetic is simplicity, functionality, and creativity, and you'll find all three in abundance at the Danish Design Center – followed by tasty avant-garde sandwiches at Royal Café, how about that.

And all that's even before getting to the grand sights this town has to offer. They start with its imposing palaces: Christianborg (the quintessential palace if ever there were one), Amalienborg (the current Danish monarchs' official residence complete with changing of the guards and everything) and Rosenborg (with gardens you could lose yourself all day in.

Soon sights start popping up like canals, multi-colour facades, and handsome historic bridges. Nyhavn is the new port, and here you can hop aboard a canal cruise that will allow you to really appreciate the scope of Copenhagen history, architectural and otherwise, from the antique to the futuristic (such as the Opera).

In fact, in fact, for all the history here, if you're looking for modernity, you've found the right burg. Good examples are Norebro and Vesterbro, old working-class neighbourhoods that today have been transformed into the city's equivalent of SoHo or West London, complete with trendy boutiques, eateries, drinkeries, and hipsters into the latest and coolest, who read design magazines in cafés. Here the Sankt Hans Torv is the centre of things, where you can get yourself an organic fair-trade brunch, shop for the latest from up-and-coming designers, and stop off for a creative cocktail.

You'll find an also modern-day but considerably less materialist/consumerist on life in a place which has become a Copenhagen institution, Christiania, a neigbourhood that's been partially self-governing since the 1970s and is essentially a commune of hippies who don't consider themselves Danes, Europeans, or anything. Full of graffiti, it also has stands selling tasty and extremely cheap street food. For diners seeking a tad more class in their repasts, Noma is a fashionable spot with two Michelin stars.

You'll want of course to include the obligatory photo with the Little Mermaid out in the harbor, the statue immortalising the famous storybook character of one of history's most famous Danes, Hans Christian Andersen. And speaking of storybooks, if you're traveling with children (whether your own or your inner child), do consider an afternoon or evening at Tivoli Park, one of Europe's oldest amusement parks (1843), a mix of historic charm and modern-day fun.

Finally, if you're a beer fan, don't miss the Carlsberg factory in the Frederiksberg neighbourhood, still housed in a 19th-century building whose entrance is flanked by a pair of enormous elephant statues. Inside, fresh, frothy brew and a museum dedicated to the brand that's Denmark's national pride. Of which especially much will be flowing tomorrow, you may rest assured.

Useful Facts 
Copenhagen has around 570,000 inhabitants.
The currency is the Danish kroner; in some places euros are accepted, but change will be in kroner.
The best time to visit is summer, with an average 23° Celsius (73° Fahrenheit). Winters tend to be rather chilly and snowy.
More information:

 

VisitCopenhagen.com; flights

 

from the USA,

 

from Spain.