Anyone who's been camping knows how dark it gets out there at night; I have been to some campsites that I can hardly see my hand in front of my eyes. Lighting is an essential when out camping. I have been camping for over 26 years and have found that everyone should have their own flashlight and a lantern or two for the campsite itself. Nothing worse than tripping over a piece of wood for the fire and falling when you can't see a thing. I always have two or more flashlights over the recommended one flashlight per person. That way when and if your batteries run out you always have a spare. Some flashlights are better than others, and in all those years amassing many different kinds, I've found that flashlights using a six-volt battery are usually brighter and last longer. They also tend to be larger, and you may not prefer that, but there is also a variety of other options out there.


Some lights with florescent bulbs and some that have mantles and use liquid fuel. My personal favorite is liquid-fuel lanterns because they are so much brighter and when you are cooking after dark, seeing is imperative. Here's a rundown of the your main options:

Six-Volt Flashlights

You can't go wrong with one of these. One well known and popular brand is Eveready, bright and easy to carry - a good buy.

Another good choice is Industrial Lantern, and Rayovac is a great one for anglers in a boat because it floats. As for the six-volt batteries, the 12-pack is a bit less expensive than buying them separately.
Other Flashlights




The Mag-Lite Flashlight line offers a series of bright and heavy-duty devices that can take dropping and abuse. It includes LED and incandescent models in various sizes, as well as recharchable versions.


For a small flashlight (just four inches long) with a big light, the LED Neiko Giant Light is great for backpackers as it takes up very little room. It also comes with a canvas belt holster for easy access.

The familiar Smith & Wesson brand also makes a series of flashlights - some military grade - and  some models in addition to powerful LED beams also offer a red-light mode for seeing in the dark without losing your night vision.

Another military grade product, the light, compact Gerber Ultra Task Flashlight emits a powerful, 30-foot LED beam, is weather resistant, and waterproof up to 30 feet. 

Battery- & Crank-Operated Lanterns

Trusty camping brand Coleman has a line of battery-operated lanterns, and one I particularly recommend is the weather-resistant Coleman 8D Family Size LED Lantern, which runs on eight D batteries for 32 hours on the high setting and 66 on low.

Another good choice is the Brunton Polaris LED Lantern, running for 45 hours on three b Batteries and emitting a warm.

And the GE SteelBeam Hybrid Lantern has an energy efficient ballast for up to 22 hours of battery life. It also has a steel hook for convenient hanging.


The Coleman StormBeam Dynamo Lantern actually uses no batteries, its a crank lantern, crank for 1 minute and get 15 minutes of light. Also comes with a built in radio and the 6 most common cell phone adapters for recharging your phone. A wonderful idea in this age of cell phones.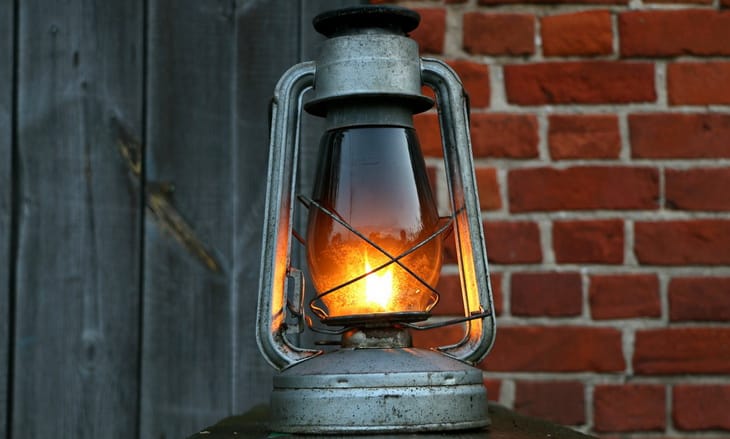 Liquid Fuel and Propane Lanterns
The Coleman 1 Mantle Kerosene Lantern is an outstanding lantern. I have one and it's the brightest light for your campsite.
The Coleman 2 Mantle Dual Fuel Lantern with Carrying Case uses both camping fuel or unleaded gas. The 2 mantle design is very bright and it's great for your campsite lightening. Comes with a protective carrying case.
The Coleman 2 Mantle Lantern attaches to a propane bottle for quick use. The lantern can run about 8 hours on one bottle of propane.
The Century Portable Propane Single Mantle Might-Lite Lantern uses a propane cylinder and adjusts from dim to bright light. Include a chain for easy hanging.
Headlamps
The Black Diamond Gizmo Headlamp is great for the fisherman who needs both hands to tie a knot and needs to see.
The Petzl 4 LED headlamp is great for when you need handsfree light and is great for biking in the dark as well.
The Energizer Hard Case Professional 4 LED Headlight is great because it secures to your head better than some headlamps and is water resistant. Comes with a life time warranty.