There are many incredible destinations in the world yet to be overrun by tourists. If you're an explorer who likes to find under-the-radar spots, read on for a rundown of my favourite off-the-beaten-path destinations and experiences:
Crack Turkmenistan's "Door to Hell"

Derweze (also known as Darvaza) is an area in the country's central north, and is best known for its small but strikingly fiery gas crater (top), formed when in 1971 a collapsed cavern was set on fire by geologists to avoid the spread of methane gas. Unexpectedly, it's been dramatically burning ever since, and is a sure way to fire up your Instagram feed!
Find Adventure in Kyrgyzstan
Kyrgyzstan (top) in Central Asia is perfect for adventure lovers and trekkers. The country is over 90 percent mountains, with stunning views like that of Lenin Peak., soaring 7,134 meters (23,406 feet). Besides the breathtaking landscapes, It's also a great destinations for people interested in cultural experiences, especially when it comes to traditional nomadic culture.
Climb the Haiku Stairs in Hawaii


Dubbed "the stairway to heaven," these rusty metal steps in Oahu's eastern mountain range were built in 1942 to access the top-secret Haiku Radio Station, used in World War II to send radio signals to U.S. Navy ships across the Pacific Ocean. It's a whopping 3,922 steps up, if you're up to it. Oh, and another thing:  they're technically off limits, and occasionally fines have been levied - up to $1,000! So there's that.
Marvel at Bolivia's Salar de Uyuni Salt Flats
Also known as the Salar de Tunupa, the world's largest salt flat extends over 10,582 square kilometers (4,086 sq. miles) in the southwest of Bolivia. Formed from dried up prehistoric lakes, it's dotted with some 30 islands, and is especially something to see in the rainy season (late autumn through early spring), covered as it is with a mirrorlike layer of water - an Instagram natural! There are a number of hotels nearby, some built out of blocks of salt.
Get Your Mind Blown by the Colourful Salt Mines of Yekaterinburg, Russia
Speaking of salt, the colourful swirls and psychedelic patterns on the walls of this abandoned salt mine 200m (650 ft.) below Russia's fourth largest city are all natural, formed by layers of the mineral carallite in hues onf red, orange, yellow, and white. Keep in mind, though, that you'll need to apply for a government permit to visit them.
Snorkel "the Aquarium" in Rangiroa, French Polynesia
.
This lagoon's long stretch of natural coral reef and turquoise waters is one of the best secret snorkelling spots in the world, dubbed "the Aquarium" because it's relatively small and shallow - just one to four meters (3¼ to just over 13 feet) - yet home to myriad colourful tropical fish and healthy corals. Absolutely memorable!
Dive/Snorkel & Roam Roatán Island, Honduras
The Bay Islands are three postcard-perfect jewels off Caribbean coast of Honduras, and the most beautiful and diverse is the main island, Roatán. Visitors love lying out and swimming on its dreamy beaches; snorkeling/diving its coral reef; and exploring its magical jungles and charming, laid back towns and villages. You will, too! 
Sandboard near a Peruvian Oasis Surrounded by Dunes
Built around a small lagoon, The tiny village of Huacachina (with barely 100 residents) in the southwest desert of Peru is a great spot for adventure and sandboarding. Catch a sunset and explore the village's rustic shops without having to deal with large crowds.
Dive into the Blue Lake of China's Jiuzhaigou National Park
A UNESCO World Heritage Site and UNESCO Biosphere Reserve tucked away in Sichuan province's Min Mountains near the Tibetan Plateau, Jiuzhaigaou is knowns for its waterfalls, snowcapped peaks, and especially its serene, colorful lakes. One of the most notable is this lovely 1,375m crystal-blue lake. A far cry from the busy Beijing and Shanghai!
Swim in the Enchanting River in Mindanao, the Philippines
The Philippines boasts countless beauty spots across its more than 7,600 islands, and one of the lesser known ones is in Surigao del Sur province on the east coast of its southernmost island, Mindanao. Deep, crystal clear, and fed by a cave spring, the so-called Hinatuan Enchanted River is surrounded by thick jungle with vines and orchids. A magical dip indeed!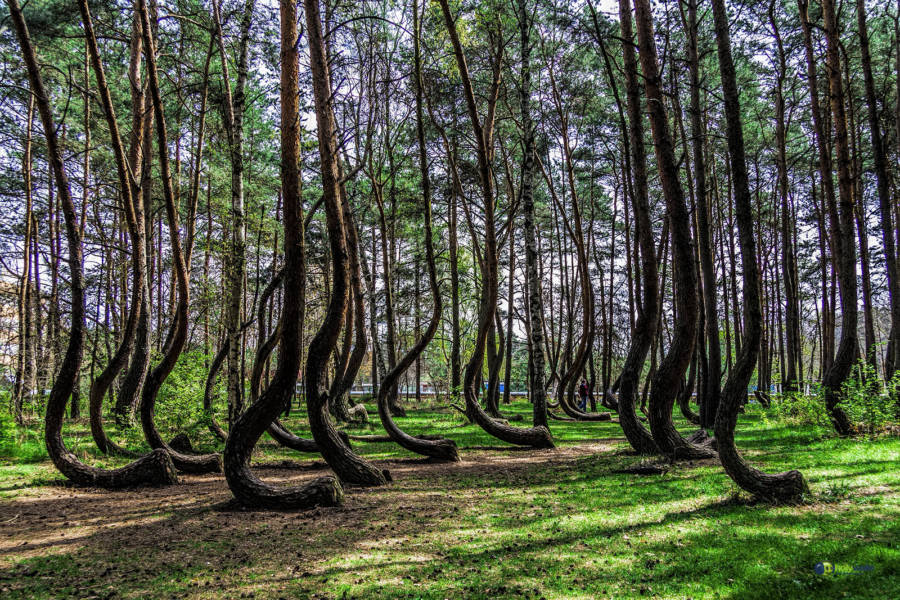 Get Bent in Poland's "Crooked Forest"

This bizarre array of crooked pine trees near Gryfino in western Poland will completely fascinate you. Planted in the 1930s or1940s, these 80 or so pines grow at a 90-degree root angle toward the north, and no one has come up with a definitive explanation as to why - theories include gravitational pull, high winds, heavy snowfalls, and genetic mutations. Whatever the reason, you have to see them to believe them! 
Explore (But Don't Swim!) Tanzania's Lake Natron

Located in the Great Rift Valley of Tanzania's northern Arusha region, thanks to its concentration of natron (sodium carbonate), this shallow lake turns animals to stone - well, more accurately, kills and almost perfectly preserves them. You see, its waters are extremely hot, alkaline, and caustic - approaching the level of ammonia. Even so, you will see birds around here, most notably flamingoes. An unforgettable sight, for sure - but of course, just look and don't swim!
Do the Dunes & Lagoons of Brazil's Lençóis Maranhenses
We don't usually associate Brazil with sand dunes, but the small northern state of Maranhão is best known for the 155,000-hectare (380,000-acre) swath of rippling dunes of Lençóis Maranhenses National Park. Come especially during the rainy season gre(October through March), water collects between these dunes, providing a breathtaking contrast that will stay with you in memory for the rest of your life.
Get a Chromatic Eyeful of Colombia's Caño Cristales River

In my humble opinion, this river on northwestern Colombia's Macarena Mountain Range is worthy of being the eighth wonder of the world. Amid a tropical climate, the national park in which it's located is packed with rain forests, dry forest, savannahs, and waterfalls. But its most eye-catching feature is Caño Cristales ("Crystal Channel") , which between July and November turns red, yellow, green, and black thanks to macarenia clavigera, an aquatic plant. Yet another "see it to believe it"!
Wend Your Way Around the "Inverted Tower" of Portugal's Quinta da Regaleira
The old quarter of Sintra is a UNESCO World Heritage Site full of fairytale palaces and castles as well as myriad fascinating nooks and crannies. One of those palaces is the enigmatic Quinta da Regaleira, built in 1910 with architecture and symbolism inspired by alchemy, Freemasonry, the Knights Templar, and the Rosicrucians.One of its most amazing features is the moss-covered "inverted tower" or "initiation well navigated by a 27m (89-ft.) spiral staircase/ramp. An imposing sight, indeed!
Straddle Two Continents at the same Time in Iceland's Thingvallavatn Lake

Located in a rift valley just under an hour northeast of Iceland's capital Reykjavík,Thingvellir National Park is another UNESCO World Heritage Site, marking the site of the world's oldest parliament and known for its fields, lakes, and streams. But perhaps its most remarkable feature is accessible only to divers, snorkelers, and swimmers. With some of the world's clearest water (with visibility sometimes exceeding 100m/328 ft.), the Silfra Fissure in cold Thinvallavatn Lake is the only place on the planet where you can swim between two continents - the edges of the continental plates of Europe and North America - and even touch both at once. Yet another mindblowing experience to round out our list!

There's so much undiscovered world out there waiting for you, so get your travel packs ready to visit, for a less noisy, less crowded, sometimes even pristine experience. I hope you enjoyed this list, and learned a thing or two! And follow SeetheWworld.co.nz to discover other hidden destinations, travel tips, and more.